I was able to purchase this little car that I had stalked for some time. I missed it when the previous owner bought it, but that led to mr getting my Turbo. After 5years he decided to sell and I bought it for 500.00. This car has 130k and runs like a top. Right through emissions testing. It needs some TLC but is absolutely rust free and perfect floor pans. I have bought carpet and a top and will have to get the seats re-done. I switched the little 13in alloys for these 14in Fiero hi-tech wheels but do have a set of Sunbird 14s to put on later. I also found a louvered hood and rear spoiler to put in the works. I will also have to rework the belt moldings like I did for the Turbo. What do you think?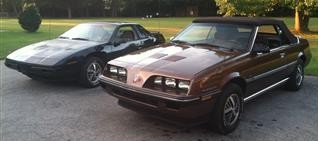 I need a right door and right fender front body side moldings Ron if that car you have been parting has good ones!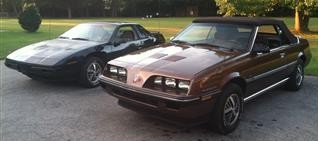 Gongrats on your Find Philip!! I thinks you officially got Pontiac Fever hahaa....JK

$500 for a nice running 'Vert is one helluva sweet deal!! Now THAT is LUCKY!!
Your Rear Spoiler might conflict with your 3rd brake light back there - just an observation.
No problems with mouldings off the donor Ron is picking off of from my end as my Sunbird is a Base Coupe w/o those amenities. Just for information - the fenders without the mouldings have a lower mounted side marker light than the ones that do - and therefore the fenders don't swap.
Here is a few photos to illustrate:
Notice how the marker on mine is low to the belt line - the marker itself would be sticking out the bottom of the moulding if it were actually there....
And here is one with the moulding raised up higher - seems thinner too but that may just be because of the moulding trim around it though...
And check out an '82 location - hight up against the nose - glad I DON'T have to try and find one of these!!
.
Good find and I do have a rhs fender that someone backed out on buying for a turbo bird.The marker light is bigger and not in molding.I would need to pull it off my wall in the shop.I can compare it to sunny as it has the same style marker and not sure if the hole is bigger for the style I and you have.Next week I will check it and see if it is way off and workable on not.Either way I might be able to source that style in the junkyhole I have been to one time.That is a nice car and I would buy it too in that shape.
wow - very nice Philip!
FYI on the rear CHMSL...
On the convertibles with spoilers, they had a little "platform" that raised the light up so it would clear the spoiler. They are hard to find now - has to be an 86-87 sunbird gt or se convertible...
There are also some moldings on eBay that appear to be new you might want to check out - they are pricey though...