Was there ever any forged pistons made for the Gen1 2.0? Specifically I'm asking about the 85-86 piston that had the .80" pin and 1.578 CH. This piston is perfect for the Chevy Corvair large bore project except I don't need the compression relief (reverse dome). Currently using the GM 2.8 piston, but having to bore the connecting rod to .90 and its a little thin, plus it more machine work.

I use the Cavalier TBI on my Fuel Injection System for the Corvair also. www.corvair-efi.com

Thanks

Ted
Anderson, SC

Ron Love wrote:

A quick answer is I have no idea.I will not touch the mechanical side of the engine unless that presents a issue.Exactly why do you want to go more heavy duty on a 2.0 anyway.There super stupid tough and my 2.0 ohv has 200k and use's ZERO oil for the last now 30 years.
Ron he's asking because he wants to use the pistons in a Corvair engine.
Ted from some documents I have in pdf format it says there were 2.0 pistons forged by JE Pistons and a few other aftermarket sources for the 2.0L racing engines. Here's the JE part numbers: 3.507 inch bore - 1876, 3.530 inch bore - 3423, 3.560 inch bore - 3404, they appear to be discontinued though.

I should have named this subject.... Flat top pistons for the Gen1 2.0 engine. We use the 1.0mm over to get the maximum amount of cubic inches without having to machine the block or heads.

To have these pistons made were not to expensive, but I had to buy 240 of them and with Corvair people so cheap, I only got 5 sets spoken for so I killed that project. I started thinking, maybe someone did a flat top piston (cast or forged) to get higher compression without the dish (6.5cc).

Thanks for any help

Ted
Anderson, SC

It is so cool to think that the venerable Corvair was the earliest Compact sized cars made that came with an RPO Turbocharged engine!! 50 year old turbos - that is really humbling!
As seemingly difficult it is beginning to source parts for some of the 1st gens I can only imagine what the Corvair fans have to go through - and that is after even finding a useable body to work with! A couple of years ago a Corvair appeared on one of the used car "Buy Here Pay Here" lots and I did give it a real good look over a couple of times, but just as now stood in wonder where on earth you'd find spare parts for it ( this one had an automatic transmission in it too). I was a very pretty Red 2 door Coupe.
I hope Ted and his fellow Corvair Fans find some useful info here in theJ-Body forum to use on their cars. In a way the Corvairs are a distant kin to our J's. Using the Fuel Injection off of them on the Corvairs is a really neat hack!
This is were we will be trying to service our J-Bodies - say - 20 years from now!!
.
Did you contact wiseco or diamond? They usually make custom Pistons for $800-$1000 which isn't bad.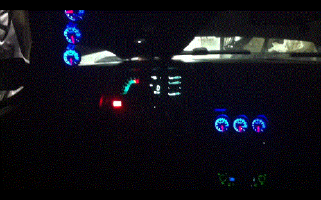 On the inside my car looks like a fighter jet.
I've had two Corvairs in the past (a '68 and a '69). These cars have more good new/ used/ aftermarket/ reproduction parts sources than our Gen 1 Cavs - not as many as my '70 VW Beetle, but better than what we have to deal with.
~ Mike ~
I was hoping that some 2.0 guys needed flat top pistons to make higher compression/HP and I could benefit from that on an order. Yes, Corvair parts are still pretty easy to get, but this project is to increase the cubic inches of the Corvair using the 2.0/2.8 pistons from 164 to 174 Ci without doing any machine work. Using the 2.8 pistons, we have to machine to Corvair Rod ends to fit the pin...... 2.0 are perfect, but have a CR dish.

We are using 1.0mm oversized pistons which is perfect for the Corvair......yes, so far I am the only one doing it, but Corvair people are fickle.

"Build it and they will copy"

Ted

Is this what you are looking for Ted
KB Silv-O-Lite 1985-86 2.0L Piston

Yes.... the exact same piston, except flat top.

JE/Wiesco will not make because the pin size is .80, they will only make .827 and above, so same problem. UEM (Keith Black which makes the piston stated above from Summit) will make them, but I have to order 260 of the cast or 80 of the forged. So far... No one else can/will make them because of small pin size.

Removing the dish increases the CR from 8.5 to 9.5 for our heads. Thanks everyone for your interest. I also buy throttle bodies (metal bellcrank) if anyone has extras they want to part with. I bought all that Autoline had for rebuilding.

Ted Brown
Anderson, SC
www.corvair-efi.com