So I drove by Lordstown for the first time in my life on the way back from DC. Funny that it is not (really) that far away and I have never been by there.
Neat Stuff - Happy Birthplace to most if not al of our J's

Very Cool! I have owned and driven a number of cars that rolled off that line, not just J body cars. My 69 400 Firebird was built there too..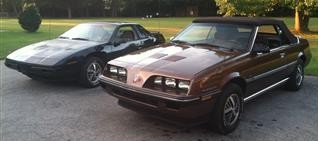 Just had our Quaker City Hbody meet there in June, one of the members stopped and took a pic............
Doug in P.R.

Attachments

gopr1085.jpg (433k)

92 Pontiac Sunbird LE, 2.0, AT, Red / Black with Grey 147K miles. Hurricane Maria Surviver! ( It takes a licking and keeps on ticking ! ).....in Salinas, Puerto Rico!
So where is Lordstown - Ohio? - and did it make ALL the J bodies? I thought I read somewhere that the Skyhawks - or some, anyway - were made in Kansas City.

It is in Ohio, the Hawks were made in Missouri.