So after a bunch of research, I finally located the correct passenger side axle for my car. Advance (who has been my best source for years on older j stuff), no longer stocks the NCV10114. The new part number is Tough One 20871236. These are specific for manuals. They have the passenger side part for the auto cars in stock all day long.
My output shaft seal is leaking and I figured it is just a matter of time before the boot goes like my other one did last year.
So, finally bought the axle and gave the bird a bath today.
Hope Everyone is doing well.
Keep us updated. I need to do mine at some point.
Bwhahaha...
Another Sunbird project begins. I got my honey-do list done and found myself with a couple of free hours. It is 91 here so why not start a car project. I have lots of water to drink so here we go...
I jacked the car up and pulled the passenger front wheel and popped out the center cap. Liberal application of pb blaster on hub bolt. Reassemble and remove stock 29 mm bolt after some persuasion - it is the original after all. I thought I would check my new one just to be sure and sure enough, 30mm just like my other side replacement. So far so good. I look at the stocker before I start pulling the brakes off and notice something, it is REALLY, REALLY long. I get the tape measure and I show a hair over three feet. I go back to my new one and the box isn't even that long. CRAP. Back to advance tomorrow. The one I have was brand new, loose in the box, but nowhere near long enough.
On the positive side, the old me would have waited until he was knee deep in 5w-30 before even thinking about measuring. I guess old dogs can learn new tricks. I can course correct and put the old bolt back on in case my daughter wants to drive some more. I still need to do the oils seal but figured the axle boots would fall apart in my hands during dis-assembly. I guess if I can't locate and axle I will put new one piece boots on since the axle will be off.
Stay tuned - Paul is at it again...
Have you thought about buying boots and just re-doing the axle yourself with new grease? I wish one of my convertibles was a stick but both are autos. Have to drive the Fiero for some 4spd fun. Both my new Turbos were sticks, they were awesome! Your little red car inspired me to find a new one to drive and kept me going to make it nice. More days with top up and air on though this summer. I do love that car!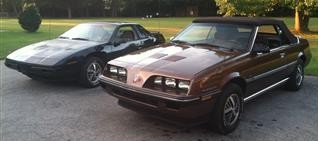 I ended up shopping outside of Advance and did find that Pep Boys has a part #60-1029 by Cardone that appears to be the right part. I will order it and find out

Hey All-
I have been out of town and otherwise occupied but finally back at it today. I pulled the PS spindle and axle. The boots were beginning to split on the outside so I saved a mess there. The oil seal was harder to get in as I could not get a clear shot with a 4x4 and my pvc tool. I did finally get it in. It took some time but appears to be ok. I will find out later if all is well - keeping my fingers crossed. There is only a $5 core on the axle so thinking I may just keep the old one.
I have a lot of cleanup to do while the axle is out. 31 years of gunk and possum fur have built up a bit down here...
I will post before and after pics. Not sure how fast I will go on this with Halloween and cooler weather coming up - no rush at this point.
Hope everyone is well.
Paul
slow progress...
I did get the LCA cleaned and repainted. It was in very good shape from being under all of the undercote and 30 years of gunk...
I will post some pics when it is back together. Been enjoying time with family and working on my train layouts. I still have to get the cars back together and topped off before the snow flies

We are mostly back together now. I will be doing an oil change since I *may* have hit the filter with my mini sledge when trying to get some bolts freed up...
The new axle required me to draw the wheel bearing back on it with the hub nut - the aftermarket ones seem to have a little more play in them. My driver side just fell together s a little difference there. Will get the fluids back in and wipe it down and snap a few pics. It does look cleaner now. It is 27 out so proly gonna have to wait for the road test

Were reading your update's.I want to start on my car but,between fixing my wifes car this week and my ride mower it can wait.Mower tore up the drive belt,froze one pulley and wifes car has a rear caliper bit the dust (not quite) but eating up the rear pads bad on lhs.Have the parts and plan on fixing her car weds and the mower.The piston is not moving in and out and just stuck tight dragging the pads horrid(yes) the brake dust in just a few days ate 1/4 of the brake pads easily.The good I caught it quick,and the car sits till I work on it.Fun times for us All.
Ron life has been kicking your and your wife's butt pretty hard this year......
Hope the dice begins to roll in your favor as we all slip into 2016!
.
Ok not related to pauls thread.Fixed the wifes 2004 Honda accord brake issue $210.00 later.Seriously short replaced the rotors and pads and shims both sides.Replaced the LHS caliper that was defective and bleed the brakes 3 times for CLEAN brake fluid.Test drive and all smiles.Mower fix is yes turkey day but cake to fix.I just have to say the new caliper was shiny new metal like OEM and I was just awl'd by that.Paul forgive me for the non related issue just wanted a follow up.I was soooo wiped out after my tues I did not even get on the computer!Trafffic out the *******************.Go figure
ok - here is the after and before pics...
Attachments
bad grammar - here are...