Ok its not a j body but at the suggestion of another member i decided i would post some picks of my new xbody. She has the high output 2.8 motor and a 4 speed manual tranny . she does have rust but nothing major bad the worst spots are the front floorpans need some work and the drivers door is pretty rusty. she runs great and shifts good i drove her prolly 60 miles home the night i got her. traded my 99 cavalier and 50 bucks for her and the cavalier i got for a lawn mower and modem. anyhow here are a slew of pics for your viewing pleasure.
she is solid in most of the common rust places for these. apparantly she has been parked a good while i plan to basically go over her an fix her up to the very best of my abilities.
cant forget the unique radio orientation which the radio works like new.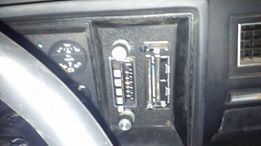 i havent dont to much to her yet cuz ever since i got her its been cold as heck and snowy. mainly i just been goin over her findin what all issues she has
That is still very cool.I Really like the name of the car stamped on the alloy wheels!!!I see it needs some TLC and finding parts body wise might be tough.I saw the carpet and it looks worn.However you might could try ACC auto custom carpet for a brand new deal.These are molded and yes you do have to let it sit out in your house to make it smooth out prior to install.These molded carpet items require a cut to fit as there made with extra material to cut down to a precise fit on the edge's and obvious things like seat track bolts and console items.I know the weather will slow down anything until spring or summer but make it the best you can.I personally would try to keep it as stock as possible as this in my opinion makes a refresh easier on a 35 year old car.Good luck.R
Yeah im gonna keep her close to stock. I do have all for matching rims for it with the citation engraving the one not on it just had some dry rot in the tire. The car has set for quite a few years. Mecanically the only issues ive found so far is the po had the fan sensor go out and installed a switch to turn the fan manually. And its gonna need a new radiator the one in it now doesnt leak but its pretty rough at the bottom. I already found a company that makes the bumper filler peices. Well they are repro peices made out of fiberglass they are like 200 for all 4. Im basically going to take the whole car apart and fix any problems she has. I love this car tto be honest it is the first x 11 ive ever seen in person.

FYI ....
new center caps for the wheels can still be had ...
http://www.gmpartscenter.net/
GM part # 9592429 just bought a set a couple weeks ago...
had my rims powder coated - cost $300 but they look great!! otherwise it takes a lot of hand/power tool polishing to get the rims back in order.
McGuires had a good aluminum polish. or lots and lots of scrubbing with Eagle One
Etching
Wheel Cleaner.
very few places have the original tire size available...got mine from...
http://www.onlinetires.com/products/vehicle/tires/nexen/215%252F60-14+nexen+cp641+91h+bsw.htm
$67 each... WAY less than BF Goodrich...about 1/2 as much
you can use 195/70-14 but it doesn't look as good... nowhere near wide enough.
Im guessing you went to Replica Plastics for the bumper fillers... you will need to do a little trimming and such to get them to fit good...
might still can find a good mid 90's buick century with grey interior to get carpet from...they are usually the nicest (old folks keeping them in the garage and such)
here is the link to my photobucket page on my 85 SC swap...
http://s181.photobucket.com/user/dangrus4060/library/85%20X-11%203800SCII%20engine%20swap?sort=6&page=1
pics 461 thru 468 shows how i adapted 90's buick century window channel weatherstripping to fit my X-11...
i got more stuff....so if you need something specific, i'll see what i can come up with.
Good Luck!!
Terry
87 RS Convertible - 2.8V6 - 3-Speed Auto, Digital Dash - Complete LED / HID Conversion - Alarm/Keyless Entry
OH, forgot about this...
Here is a supplier that will fix the cooling fan problem...
http://rodneydickman.com/catalog/product_info.php?cPath=22&products_id=88
and i do advise going to a 180 deg thermostat...
BE ADVISED .... the Choke Heater relay goes out a lot... its behind the glovebox, usually white or green in color .....keep a spare handy.
Terry
87 RS Convertible - 2.8V6 - 3-Speed Auto, Digital Dash - Complete LED / HID Conversion - Alarm/Keyless Entry