Hey yall around 8 months ago I bought a 1989 Pontiac Sunbird Gt Convertible that had some front end damage. Well Today I finally started to looking into it and broke it down to see the real deal. Ive got quite a few parts I gotta have to make this car pretty much safe and looking good again. It runs and drives great just looks HORRIBLE and I have to tie the hood down to keep it from flying up lol.
Heres a list of stuff I need. I know alot of you guys go to pick and pulls alot and if you come across one of these let me know and will work something out.
Header panel
Bumper Cover
Absorber,
Impact bar
Hood latch and safely catch
Passenger side turn signal
Passenger side fog lamp
Passenger side fender
passenger side concealed headlamp with right and left flaps? I don't know what their called.
And some trim pieces you can probably see in the pictures I need.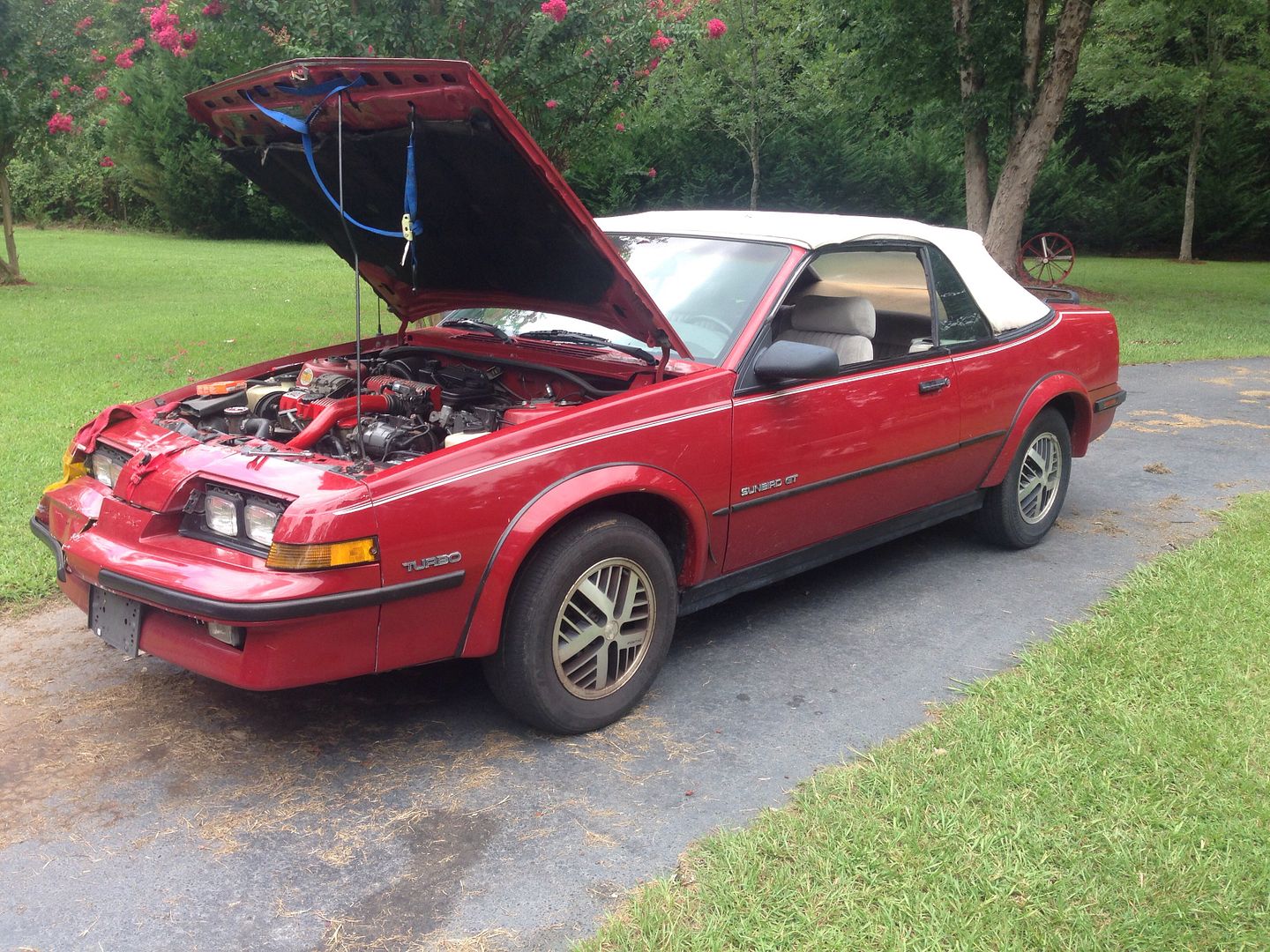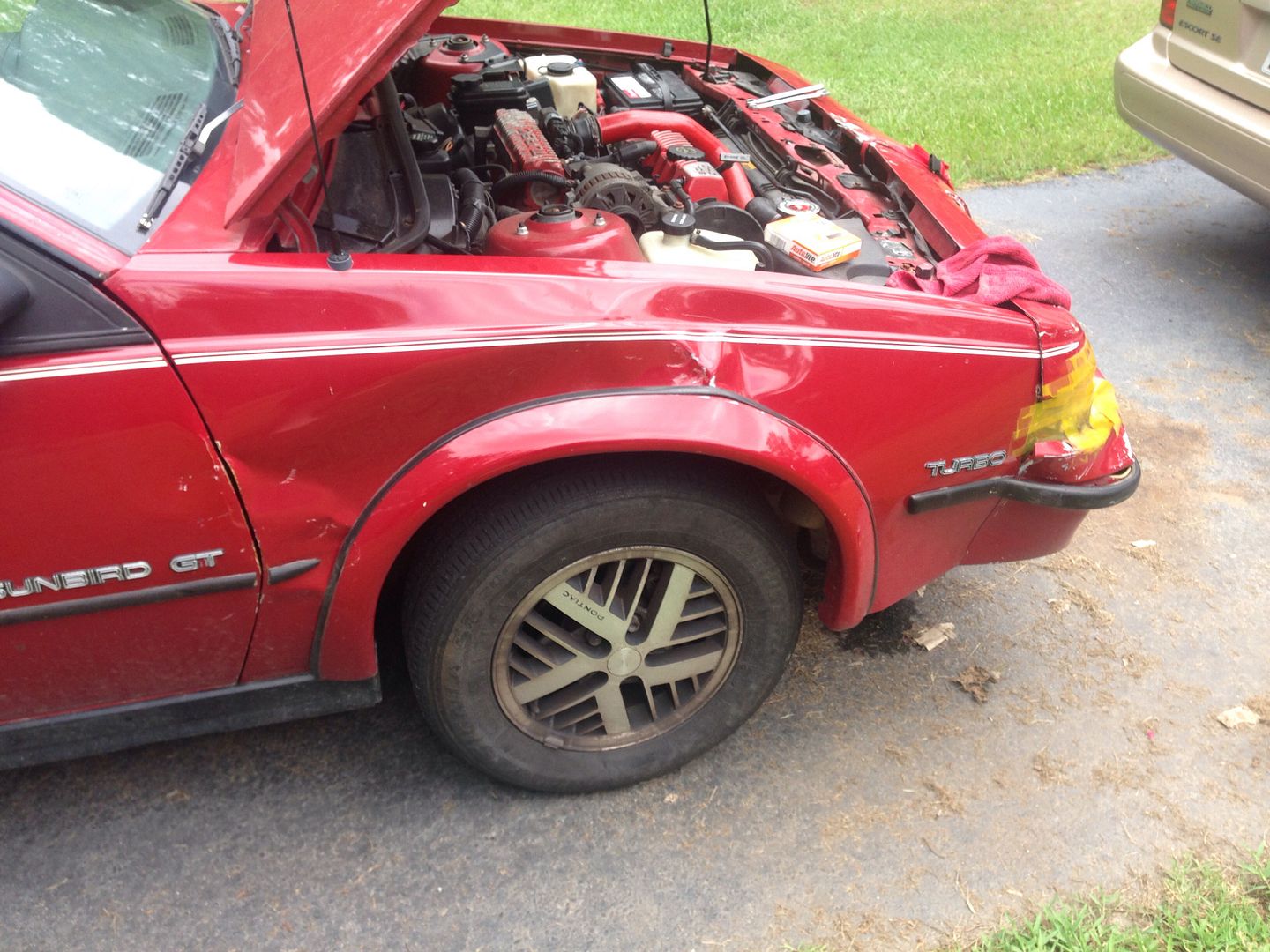 I have a fender ironically a RHS side.Let me take some fresh pics tues (I took the day OFF) so I will post pics tues nite!I do have some assorted parts and will need to re-check for a fit or maybe fit.If the fender I have works in the body line dept I soley would ask soley what I paid for it $40.00 plus fed ex ground shipping cost.I am not looking to make a gain rather just make my cost back if the part will work.Just for information I do use paypal and I assure you if this part fits the need I will not fall short on my end shipping it to you for what ever the final cost will be!!!!!I am nothing but 100% honest and upfront on any parts I sell and NO BS!!!! I realize you know I am nothing but a good seller,member but I do like to be very upfront on my sales if it works out for any buyer.I will recheck my inventory and do my best to show anything I have to fit the needs.Ron
Please double check your fender Ron, if I remember it has a cut out for a side marker light on it.
Matthew I haven't see one of these in any of my yard travels and that is a LOT of rummaging around...Hahaa. The pop-up front is beautiful - but extremely rare. May I offer to suggest that you might keep an eye out for any 1st gen Sunbird for a donor to get your car back on the road. It would be easier to bolt on a standard Sunbird front end to get you on the road and allow you to keep the car and also an eagle eye out for that elusive, beautiful GT front end.
.
Here is a close up of the driverside fender.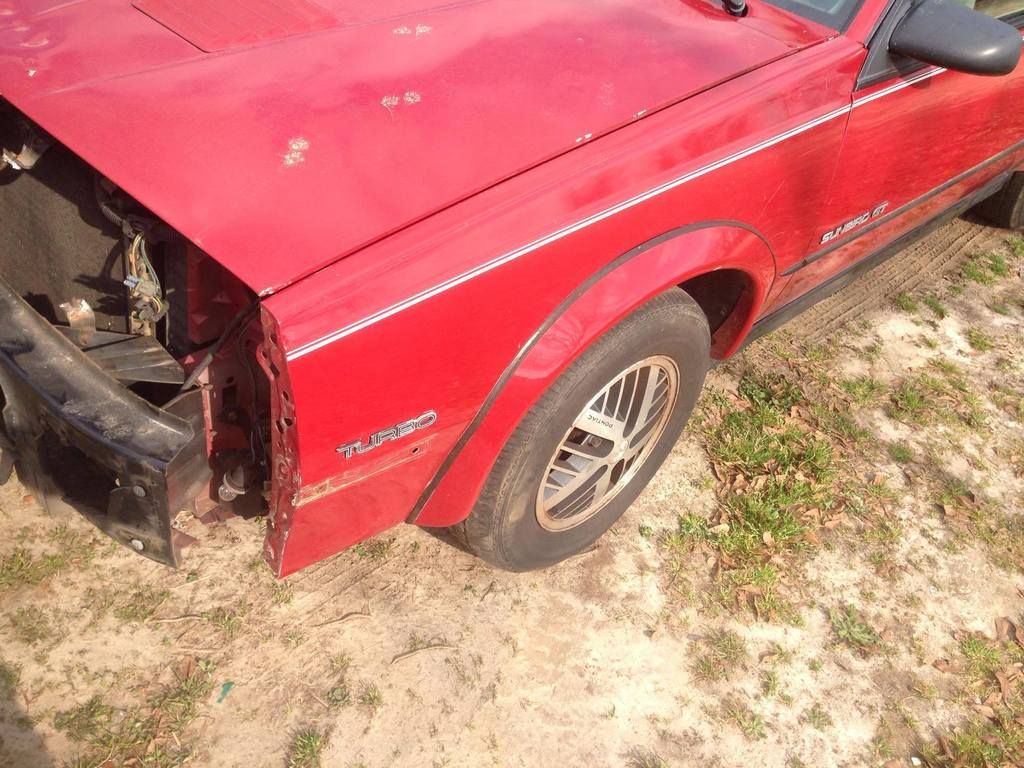 Okay I read up that the fender and the safety catch on my sunbird is the same as Buick Skyhawks from 88-89 Oldsmobile Firenza 84-88 and Pontiac sunbirds with my nose from 86-89. I'm just having no luck in finding parts for this car down where I live.

http://www.discountoeparts.com/oe-gm/22538046
http://www.discountoeparts.com/oe-gm/10018735>:o
>:o >:o
2nd gen doors (or at least the skins) are different, I would expect the fender might be different as well.

Anyone know for sure if a 1st gen fender goes on a 2nd gen car?

I just don't want you and Ron to go through the trouble if Ron missed that you have an 89.

Found this one at my local yard about 4 years ago. It was only there for about a month before it was scrapped. Good pics to look at though. It was an 86 non turbo.
They were all crushed..... Probably part of a Honda by now.
My fender will not work.As orlen pointed out and my not checking prior to posting the marker light is in the molding area.To try and mod it would be pointless.I have been checking online my yards and no pontacs yet.I might try just a walk thru maybe Thursday on my true local pile as they only list the current rides.But if I find something I will keep you posted.I sure wished my fender would work however the body lines varied as the fender I have has a big marker light unlike your trim molding.Just a short.
I know it's not exactly what you are looking for but www.car-part.com has them listed:
Header Panel - cheapest $100 Haynes Auto Parts Commerce, GA 30529
Front Bumper Assembly(not sure what all this includes but does include bumper cover) - $75 Graves Auto Salvage Aiken, SC 29801
Passenger Fender - $50 from Haynes Auto Parts
Passenger side turn signal - $15 Graves Auto Salvage
Passenger side fog lamp - $25 Graves Auto Salvage
Concealed Headlamp Assembly Right and Left - $40 each Graves Auto Salvage

I went scouting today a good walk thru.Only 2 cars of interest a 1990 cav Z no strut bar (idk why) all the hardware was on it.Next was a 1993 sunbird vert.I will say the 1990 had a 5 SPEED manual!!!! These are pretty rare and seldom see and the car had a 2.8 on quick recall.There is one other yard I would like to check as they have weird stuff not at the typical yards and will try to check it out in the near future time and money pending.I am looking and who knows next week something might pop up.R
Thanks for looking yall. Spike the Haynes was defiantly different and graves said they didn't have anything on hand anymore so I guess will keep trying :/
Just curious if the 90' Z had a good hood on it? They were fiberglass and cracked easily.
Been thinking about one for the '94 sedan, but it would just be a whim. Not a heart breaker if it is busted up. Haven't come across a 2nd gen Z here in a long time at the yards.
.
Orlen I snapped a pic with with Samsung galaxy phone.If the pic is worthy or not I will post it.I think it just had the simple hood,but I have been working on my sister in laws accord all afternoon and well tired.The hood was metal maybe with the scoops I just can't recall.matthew that is great you found sooooo much.I will say this will not divert my wanting to check my other 2 yards maybe next Thursday as I like the smalls as they fetch good $$$$ on the resale these days.