The wife's car is almost ready for spring! Top and interior and paint done. Just finished refab of belt mldgs, I am getting good at those! Refinished side mldgs, not on yet. Also fitted a 90's Grand Prix factory radio w/CD and equalizer and added mp3 connector for phone input. I added the Turbo hood and rear spoiler. Almost ready to go. Just finishing touches. It was almost 70 degrees here today! She is excited.
Attachments

IMAG00982 (Medium).jpg (196k)
IMAG00972 (Medium).jpg (151k)
IMAG00972 (Medium).jpg (151k)
IMAG00971 (Medium).jpg (123k)
IMAG00970 (Medium).jpg (166k)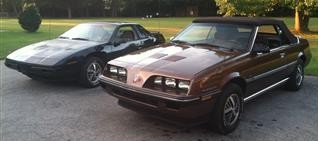 Looking good!
Just got to love the Sunbird tail lights.
Looks great.
Agree about the tail lights

86 Skyhawk wagon 1.8SOHC • 93 Sunbird two door 2.0SOHC • 93 Sunbird four door 2.0SOHC
Looks great!


http://www.autorentalandsales.com/images/2004Cavalier005.JPG

Philip, I think you have the Pontiac corner covered wonderfully!
Now you and wifey can turn heads together at the same time! It is something special you 2 can share together

Looks like this year is going to be a J-Body blast for a bunch of us on here! Spring is just around the corner!
Got my '84 Bird out and started driving it myself yesterday. Have it here at work today - it is so nice to still have these early models. Very special indeed!
.
I got the Turbo out and drove yesterday for the first time for spring and that was fun. The blue car is really pretty and with the white top she really likes. Not a Turbo, but still lots of fun and better mileage. Got some nice lenses for the tail lights that were de-laminated and polished them up. Took them apart and cleaned and a new coat of spray chrome for the reflectors and they look really good in that shot. They make me smile too Orlen. The kids around don't know what they are.