Ok guys this is my new friend Jonathan with his 88 bird with a engine whine.Long day and 13hrs at that.I watched this over,over and over.The one thing that stood out was the stand alone pulley closest to the crankshaft pulley is NOT moving period.Yes the belt moves but the actual pulley is not if you pay attention.Short is I think the car warms up the belt gets hot and causing a drag on the crankshaft pulley making the noise.Please chime in and agree or disagree but add comments to help our newer Jbody guy fix the said issue.I am going to redirect him here to our forum for all the follow up post.Tired I am but,dang it I am trying.His car is super stupid sweet!!!!!! Btw I have been trying to help him the last few weeks with said issue.
I'd throw a idler pulley or tensioner on it. Sounds like one or the other going bad.
Thanks guys. This whole thing was getting above my job description so I took it to a mechanic that is supposedly on the more reputable side and less grease monkey side like me. Anyway after taking some things off and inspecting the shroud and surrounding moving parts the mechanic feels the noise is a result of a timing belt that is two tight. They showed me that it appears as if the belt and water pump were replaced at one time and since the waterpump serves as the belt tensioner they will have to remove it and readjust so that the timing belt is at the proper tension and the noise should cease. I have to wait a day for them to get in a new o-ring seal for the waterpump and new timing and serpentine belt. I figure I might as well replace the timing belt even though the current one looks almost new because at this point it's only another 30 bucks lol. I also took it upon myself to place an order for a new lifetime water pump if ultimately it is the water pump that way I won't be waiting yet another day for the water pump to get in.

Anyway, I hope this takes care of it as I figure I did my part to correct any flaws requiring immediate attention that would prevent someone from having a lot of fun with it if/once I decide to sell. I'm keeping my fingers crossed and will keep you all posted.

I have the same noise on my '84 N/A 1.8.
This is a resonance sound coming from the timing belt. You have it at just the right tension and RPM to make this sound. Been running mine like that for years. It is harmless.
.
The point you said the stethoscope indicated is where the oil pump is. Front housing, nose of the crank drives it. Right behind the balancer and belt gear. HMMMM! Just a thought.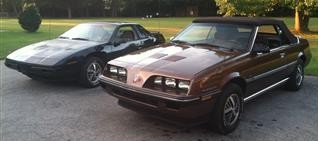 Well glad things are being addressed.I know that with the age of the car at least dropping the oil pan to clean it out and maybe considering replacing the oil pump would not hurt either.I will say another member here Paul has a sunbird vert as well turbo and he has dropped his oil pan and did the (replace) his oil pump on recall.I will say doing the oil is easy but,some particular steps are required.I did my oil pan and just cleaned my pump while more toward the trans side not the crank.If you decide to do this yourself or have it done please ask.There are some things even the oldschool guys might not recall particular to the oil pans on these old Js.I had to redo mine and paul as well twice.I will say I did see a lot of oil on your pan but,the filter being right at the crank could explain some of that.On our board we have a good knowledge of a variety of issue's and can probably answer most of your questions.Another long day for me 12hrs and I am done.
Sound familiar ?
Back in the day (showing my age here???) I used to set the timing of the Pintos and Chevettes with this resonance sound - ie. "tuning by ear" . Ahhhh, the good ole days!!

Sorry for all the cam noise, the old Bird is just about done and ready for a new head gasket/ head replacement and a cam to go with it. I am presently pondering temporarily swapping in the engine I was generously given a few years back and getting some running time on it. Plenty of options on the table - that is a wonderful thing!!
https://picasaweb.google.com/106523843413447284565/April52016#6270113624825335810
.
Well I'm here to report that the odd flutelike sound has disappeared with the loosening/changing of the belt. I'll post a video of the belt tension soon. Although maybe it's my imagination but it seems as if I lost a little bit of responsiveness when the belt was loosened. The shop manager assured me that they did not change the location of the belt on the sprockets and the car idles fine. It just seems like it doesn't have that get up and go from take off like it did before the belt was loosened. Course the shop manager is a little on the arrogant side and insisted that's not possible because everything is in time. I've driven enough vehicles to now how a nicely timed or slightly advanced timing setting will help lessen lag when stepping on it.

My next question is there a way to fine tune the timing other than to tighten up the belt again or advance the belt on the cam gear a notch? The shop is being a little standoffish since they got paid but if they want some repeat business hopefully they'll come around as long as I'm not being a fool about my concern. Thanks!

There are some steps to get the timing done (correct).It is kind of long winded to try and explain.On the 1st gens what is used is called the averaging method.You have to disconnect the EST plug and using a timing light.The short is by removing the plug puts the car in Bypass mode for the timing when making a change.The bypass mode talks to the ecm after the change is made once the EST is replugged in.I might have my thoughts all crazy but,I am pretty darn tired.I can time my car with no problem.I will say in a super short story I removed my distributor for a intake gasket job and had to go Oldschool and remove the #1 plug and rotate the crank to get TDC as I painted my block!!! So NO marks for TDC on fresh paint.I put a 12 inch long screw driver in the plug hole to get it rotated up to the compression point just before the exhaust point.Sounds crazy but,I got it on the $$$$$ after a few attempts.I just refuse to mar up my new paint on the block for the timing.Boring story maybe.My final thougths are it could be the timing on your ride might be a touch off and the extra tension just shored up the difference your talking about.
Well that's interesting. I haven't been able to find or have anyone describe in detail how to time this engine given the protocol you are describing. Please elaborate so I can share with the mechanic.

I know on my 92 2.0 OHC, the marks didnt line up perfect when I changed my timing belt either............was off a half a tooth or so if I remember correctly.
Doug in P..R.

92 Pontiac Sunbird LE, 2.0, AT, Red / Black with Grey 147K miles. Hurricane Maria Surviver! ( It takes a licking and keeps on ticking ! ).....in Salinas, Puerto Rico!
92Sunbird PuertoRico wrote:

I know on my 92 2.0 OHC, the marks didnt line up perfect when I changed my timing belt either............was off a half a tooth or so if I remember correctly.

Doug in P..R.
Did you start it? Did it have any particular noticeable issues while running? The only thing I notice Is a slight delay when taking off from start.
Sorry - just waking up from a long winters nap.
Looks like you guys are all over the issues.
That car is sweet.