I've had that water leak leading to a soaked passenger side floor. Because there is nothing above the floor that is wet, the best guess we've had so far was a door weatherstripping leak that would run down and out at the bottom.

Not quite.

I backed the car into the driveway this time and now my driver side floor is soaked! The easy answer would be the sunroof, which I will now tape plastic over to see what happens, but I just can't believe this is the problem as there is a good amount of water and nothing above the floor is wet...no seats, center console, dashboard, etc. even the Headliner is bone dry.

Someone mentioned a rusted firewall...how would I look for that?

Any other ideas?

Just a simple idea.It could be the area around the cowl (wiper arm area) when removed the seam sealer could be dried out.As long as the drain area is clear no water should sit as Orlen did a great job describing clearing out the drain holes on the cowl.On another odd possible is your windshield seal could alloy water to drain down into the floor board but,I only found this to be a issue on another brand vehicle..I am tired and kind of tossing some idea's.
I'll remove the cowl again when I get the car to my friend's house; but there wasn't any clogging when I had that off when I changed the fenders last year.

If it is the windshield seal, wouldn't I find water on the dashboard somewhere?

Take her through a car wash. Take a good strong flashlight with ya and root around while going through. Maybe you might just see something. Another idea is to go to one of the high pressure car washes and have a buddy spray the hell out of everywhere while you sit inside with that flashlight and see what is going on. Bound to see something if you take your time in there.
.
Draw a chalk like around where you think the water is coming and the water should wash away the chalk if it is coming in that'll. Also a shop with a smoke machine may be led to find it if they have a diffuser for the end or even a thermal camera. That is what I use.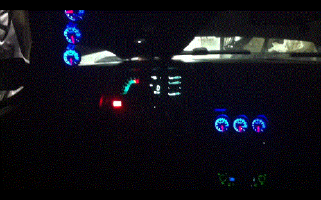 On the inside my car looks like a fighter jet.
Rob--I have no idea where it's coming from, so nowhere for me to draw a chalk line

Orlen--once I get the car to my friend's place and we rip up the carpet, if I haven't already found out where it's coming from, spraying it down with the door panels and carpet out of the car will be the plan. I think without taking off the door panels and removing the carpet, I won't be able to figure this out.

This doesn't help, but I'm having the exact same problem with my 83 Skyhawk and we had the same problem with our 87 Skylark.

Hugh Curran wrote:

This doesn't help, but I'm having the exact same problem with my 83 Skyhawk and we had the same problem with our 87 Skylark.
Did you find where it came from?
No. My mechanic said I should take it to a body shop and they might be able to figure it out. Haven't done that yet.

Just found this on a wrecking yard site on a photo featuring a Skyhawk wagon:

"My 1995 Skylark managed to get through the line with some welds missing, causing water to soak the floors. 90s GM quality control was atrocious."

You suppose it's missing welds?

If it was, I should've had this problem the whole time, but I've only found water on the floor in the past six months.

For about a year though, I did notice a smell in the car, but no water. So I would say it's been going on about that much time and we just didn't get a good enough rain for me to see the soaked floor. Plus I think the water ran to the right rear most of the time where I wouldn't have seen it because it was in the back and under a floor mat--so much for floormats being a good thing for helping preserve the car :p

I can't see the pictures, I do not use FB. There is a size limit to pics posted here on the site via Add Attachments. Your pics are probably too large or the wrong format.
IrfanView
is an excellent photo viewer, editing program for resizing and changing the format, etc. It's free and no adware! They don't asked for your email or anything. Been using it for many years and it is outstanding.
Anyway, the easiest and probably the best way to get rid of the rust would be a wire wheel on a drill.
Zinc Chromate is the best primer to use to protect against rust and corrosion.