well guys, ive been around here for 4 yeas now, and ive decided to call it quits. after spending 3 years building a car up, having it taken from me by a drunk driver, then starting over and building again, ive lost interest. as some of you know, my car was in need of paint and body work, but what most dont know is the issues ive had. it ended up towed home 5 times in 10 months all for different things, the last time being a dead hole wich was lacking compression. i decided that with $5000 in paint, redoing the exaust, fixing the water leaks in the trunk, and now rebuilding my 2 year old motor, its time to let it go. i comute 70km (about 50 miles) a day, and i need something reliable.
i will be parting the car out, if you are looking for any 1st gen z24 parts e-mail me or contact me on msn at sharkey_t69@hotmail.com. no the valance isnt for sale, i figure one day in the distant future i may stumble across another 1st gen and start it as a project/weekend car, and that is one peice i know id never be able to replace.
as for me, i bought a 205 cobalt ss/sc, stage 2 kit, 2.85" pulley, 3" exaust, header, cobra heat exchanger, urethane mounts, ect. i wont be around here as often as i have been, but im always on msn messenger and ill pop in once in a while.
This kind of thing happens from time to time. Maybe in a couple of years you'll get the bug to build another car with the lessons from the first two at hand. Have fun in the new ride but stay out of trouble.

-->Slow
Hey man, good to hear you're still driving a modded Chevy! I know how it goes when you lose interest in things, I have sold 3 cars that way and I always remember the good / bad times with each.
Good luck with the cobalt, I hear the SC'd cars are a blast to drive. Good luck selling off the parts stash. I will pass this info along in case anyone I know needs Z24 stuff. Hope to see you on JBO still from time to time.
ill still pop in now and then to see whats going on. its not only losing interest, its just the fact i need somewere to keep it, and i have no room. if i could keep it, i would in a heartbeat.
the cobalt is a blast to drive. havent really opened it up much, been to busy playing with the novolty stuff, like cruise controll, steering wheel aidio controlls, heat that works, headlights i can see in the rain with, ect.
here is a pic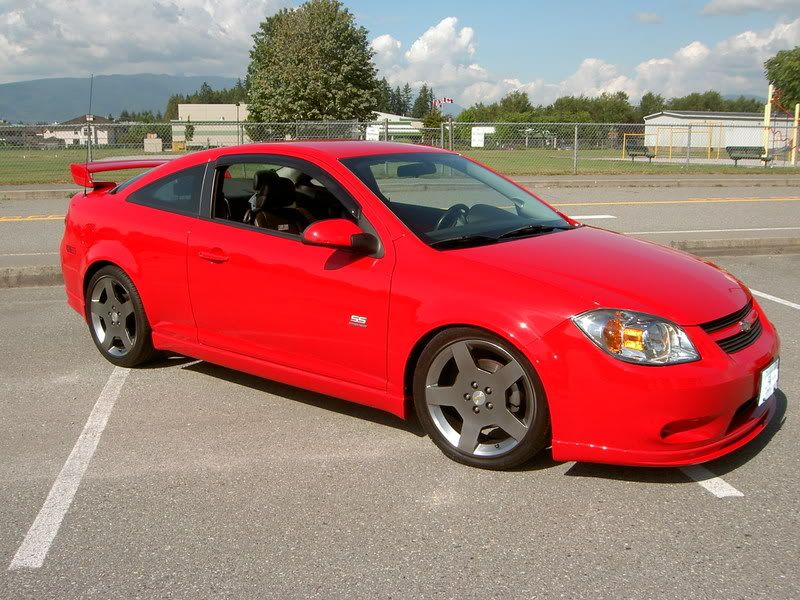 man that sux i mean i dont know you well but youve helped me alot will you still be on the forums

it's hawt you do realize i'm gunna defile it 2morrow, right...... not like we don't have 2 jbodies to play with still,.....


watch for flying sparks!!!

I can understand ur frustrations and it's completely logical to buy a car that's not a daily driver that will be issue free.Now being I have another veh I drive primarily the cav sits in a garage covered and it's in need of work itself.It's hard to have one car and do all u have done to urs and rely on it everyday and not cost u dearly.Good move and like anything else if u find a solid car to bring back as a fun car to wkend with so be it.Nice new car btw.