omgz you're so cool right?

Considering the shape it was in before, I think it looks damn good.


I'm digging it....




It's getting prepped and real paint shortly. Looking at flat/semigloss black.

Dave Mira wrote:

omgz you're so cool right?
hahhaha. Getting prepped and real paint shortly?? How fast do u think all that rust is going to pop through all that @!#$ty that bondo?? Not cool, thats a big waste of time. Its hidious. Waste of $700, that car was destined for the scrap yard. That kid should of saved some more money and bought an old fox body, do some motor and trans work, put on a decent exhaust and call it a day. For real.
It's been over a year and no rust. gg.

Any more updates on this? I was following it over on V6, but I noticed the updates stopped after a while. Like what you are doing, big improvement =D

I like it also, later the hater go work on his Mustang. He must have forgot this is jbody not foxbody

i never thought about painting my car until i saw your post. really you inspired me to do what ive done to mine. unfortunately now i cant stop and i want to keep adding more mods.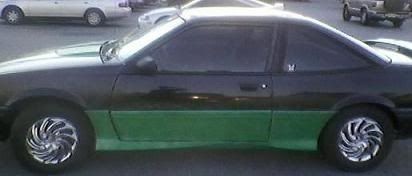 93 cavalier with z24 body parts