Ok so I'll try to explain this the best I can. I have 2 1994 Cavaliers. One is the one I've always had, the one I've been working on. The other is a donor car my sister just gave me. Here's the specs:

My car:
2.2l Manual Coupe RS
Body is starting to rust out really bad
Engine is MINT
all the lines, wires, harnesses, brakes, suspension have been replaced with new parts.
The drivetrain, electronics, fluid lines are all in mint condition.

Donor car:
3.1 RS Coupe, Automatic
No rust at all
There's a leak in the gas line
Needs new: Suspension, fluid lines, brakes


I don't expect to drive either car for more that 2-3 more years, I just want to get as much out of them as I can, and have a little fun because I love these cars. Would it be easier to put the 3.1l in my current car, or convert the 3.1L to manual?

If you want to get long as possible from them, drive your RS until if falls to the ground, and be working on the solid 3.1 on the side.

That's exactly what I've decided to do.. After checking over the 3.1 my sister donated, i found absolutely NO rust... She was going to scrap this car and there's no goddamn rust on it... The body is mint.. I'll be working on it and hopefully have it on the road and painted for next summer.

i actually got my z24 3.1 auto put up right now because im more concerned about fuel cost. my 2.2 5 speed gets better mileage. if i were you id find a way to hold off that rust for as long as you can.
if its too far gone drive it to death and be working on your 3.1, if by the time your 3.1 is fixed you might be able to sell the 2.2 engine and tranny for some change.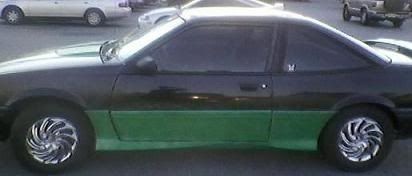 93 cavalier with z24 body parts
Kinda harder to covert the 3.1 to a manual using the 2.2 trans yes it will bolt up but you will need different axles an interm shaft and have to figure out the wiring and vss