ok im a mopar guy and i got this 92 cavi from my buddie for 75 bucks ok it drove fine when i got it home
i started tuneing it changed everything oil,all filter plugs and wires started up ran fine
next day i get in starts runing like a fuel problem(it studers and high revs) i looked under the hood one of the fuel injictors i bubleing fuel out of it port i havent changed the injector out
and now i just found out 1st doestnt work it goes backwards

So..... what exactly do you need help with?
.
you still got a good deal for 75 bucks.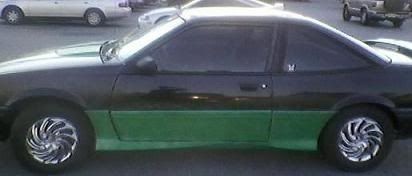 93 cavalier with z24 body parts
Ok you were all over the place with your post. An injector was bubling, I got that part. Leaky injector. Best bet is to pull out all the injectors and resistance check them all. I believe it should be within 11-14ohms. Anything less than 11 and it's bad. Replace it. Replace the one that's bubbling definately. There are places out there that will rebuild all your injectors, and even flow match them for cheaper than it would be to buy all new ones. And the las part of your post I didnt get..... Something about backwards?????? What were you saying there

ryan cline wrote:

and now i just found out 1st doestnt work it goes backwards
Automatic? If so, probably the linkage is off somehow and you really are not in first, you are in reverse. Could be a loose cable, bracket or the lever on the trans. I guess it is possible something could be messed up in the valve body that is sticking in reverse.
If it is a manual, could be someone put the shifter cables on incorrectly, I suppose.
Talk to your buddy and tell him to be straight with you about everything he has done to the car. Find out if he too had the same problem. Chances are something is just hooked up wrong.
Good luck and let us know what you found out.