ok i have a 94 cavalier 2.2L 3 speed auto what year and vehicles can i pull a ecm out of and use i know the eprom chip would have to be swapped out.

Anyone with "16191947 " on it. Check Ebay, there is a ton for sale.
Doug in Az

92 Pontiac Sunbird LE, 2.0, AT, Red / Black with Grey 147K miles. Hurricane Maria Surviver! ( It takes a licking and keeps on ticking ! ).....in Salinas, Puerto Rico!
well i was going to the local junk yard they got a bunch of these cars there and its only 20 bucks for the ecm. So thats why i wanted to know what year and stuff but your saying the part number so i guess i will just match that up. ty

Any 91-94 should work. As long as its a cavalier and a 4cylinder. Sunbirds had ohc not ohv and v6s have different ecu. Domes not have to be manual or auto as long as you switch the EPROM.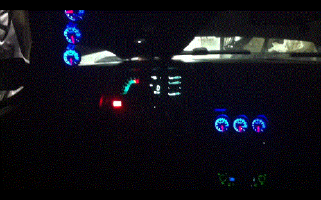 On the inside my car looks like a fighter jet.
Nope. 91 was TBI. 92-94 will work.
.
92-93 wiring is the same. 94 is slightly different. 94 crank sensor is connected to ecm instead of ignition module, and 94 injectors use two ground lines instead of one.

How about this one. I have an 84 Cav auto with a swapped 92 2.2L motor in it and an 87 ecm. Is it really not a 92 motor (only going with 92 because that is what I was told by the guy that owned it for 3 months before I purchased it). Was the eprom swapped? Anyone know? I checked the code on Slowolej's BCC find website and it comes up with 87 Cavalier as the year and model that it was manufactured for..
https://photos.google.com/photo/AF1QipO0RaHm0VutezIjCYBA7ggh6g1awGTFszr9_U35
Shoudnt an 85 have a carbuerator. I had a 91 2.2 and it was a tbi. Maybe they changed out the head and intake and just used the bottom end from 92. I think 82-84 was a 1.8 85 -89 ? was a 2.0 and 90-91 was 2.2 but tbi. 92-94 was multi port or sequitintial can't remember. So either they changed some wiring or the top end of the engine. My cousin had an 86 stick that was a 2.0 carb 4 speed

Let me clear some carb versus tbi years.In 82 yes soley carbed but they fazed them out quick.Most of the 1983 models have tbi just a different tbi # style or design..The only difference from 84-87 etc just juse a more updated tbi and that is really all.It would be completely impossible to have a 86 with a carb(gm never had this on any 86).Unless someone changed it or you misinterpreted what you saw.In short 84-94 were either all tbi or multiport regardless .I have junkyarded alot and even the earliest 83s were all tbi.Short lived bc gm changed to update a old idea.Tbi is more effiecent and easier to fix compared to carbs anyday.Just sharing info that is correct and not based just on my knowledge or books which say exactly what I just said.Ok
You might be able to check the engine code on the block for a year of manufacture. It should be above the starter next to the transmission housing.
..........................................................................

I'm just curious John???
If your brown Vert is an '84 it would have had a distributor on it. Last year for Cavaliers with a distributor is '86 I guess it could be done, but I can't see how your "Vert has a distributor on it with that 2.2 - it should have the coil packs on it. I really don't understand how you could run the old original distributor type wiring harness on a setup with coil packs....much less the same ECM.
.............................................................................