I just picked up a 1990 z24 3.1 auto with 90K. When i start it it idles very rough, it will rev to 3000-4000 then dies unless i take my foot of the gas. Dies when i go into gear. The alternator tested good off the car but it is not charging. so i bought another i'm having the same problem out of it. New battery also. I found someone oon W-body with the same problem. he got a junkyard PCM for his and all his problems cleared up so i ordered one aswell. It will be here saturday. Has anyone ever had a problem like this? If so what was it?

Thanks in advance, Robert

I would be checking your map sensor.This would duplicate the same or similar problems if it is going bad or already bad.It is pretty easy to check using some jumper wires and using a multimeter to check resistance and I have a thread on how to do unless you know how.I would have to dig in here on this forum on back on the 1st gen it has a step by step.If I get time I will try and find it.I doubt it is like the tps (but cough) could be and that can be checked as well with a meter and pretty easy.
http://www.j-body.org/forums/read.php?f=29&i=62980&t=62980
read down some this is one I posted on checking the MAP sensor.
I really appreciate that. I checked the sensor using what was in the other post and i got a reading of like .7 with the car off???? Doesn't sound right to me but i'm hoping that means the MAP is bad. A friend of minecame to look at the car today and he was messing around in it and noticed a few fuses were missing. Mainly the fuse for the alternator so that is fixed now. But i'm still having the rev and dying problem so hopefully it is the MAP, i ordered one and it's sposed to be in tomorrow at 2 so i will let you know. I really am thankful you mentioned that though. I'm new to J bodies and would have never thought of it.

Got the map today, put it on the car and it stopped the dying in gear problem, But now i have a new one, in park it revs fine but in drive if i give it any gas whatsoever it runs away, i threw it in neutral and it kept redlining, turned the switch off/on and it revs right back up. I think it may be the tps so i went back to advance auto and got one. Will be putting it on later tonight when i fix the intake gasket. I also think i have a vacumn problem cause when i hit the brakes the car dies. maybe this has somethiung to do witht the intake gasket being broke???? Any ideas would be greatly appreciated.

In thought if you have a air leak from the intake which does affect vacumm it is possible.I know on my ride the intake does have coolant running thru it along with several vacumm lines on top and those def work with the brake booster in the chain of vacumm.Do your intake gasket and replace ALL the vacumm lines attaching to it as preventive maintenance as I DID due to age/wear.Then see where it goes.Glad to help where my knowledge can help even with the 2nd gen stuff.Good luck and at least one step is done right.
I put the intake gasket on and replaced the tps and car is running great now, other than the battery being completely shot, it will charge enough to run the lights and such but i have to let it sit and rev it before i turn any lights on or it kills it. and the car is reving it's self a little in drive.it is driveable though and i love it. I figured it would be a little faster but i didn't have high hopes.lol But once again thank you very much.

There is i believe its 3 or 4 vaccum lines on top of the air intake if one of those is off i will cause it to do that my 92 did that till i noticed one day one of the lil black vac line were un plugged

Cruise control box on drivers side strut owner has vacuum lines. Mine dry rotted and cracked causing the cr to idle weird.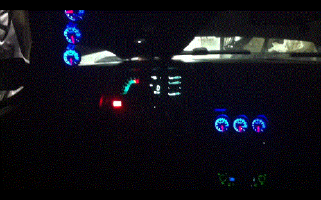 On the inside my car looks like a fighter jet.