So my mind got to thinking...... has anyone ever seen a 1st or 2nd gener with LEATHER upholstery? I realized a few days ago my Cavi is gonna be my daily driver for at least a few more years, so why not make it more festive?!?

This would be so cool. just sayin'. Anybody seen leather in the 2 earliest gens? I want leather now! OOOH I'M SO EXCITED!

LEATHER!

You'll have to find a Cadillac Cimarron, they're the only 1st gen that came with Leather seats as an option.

you can get vinyl seats from a cavalier or sunbird.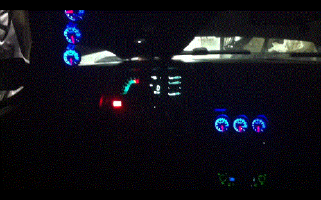 On the inside my car looks like a fighter jet.
The third gen F -body cars, (Camaro's & Firebirds) used the same seats as the J-body's. I am sure my 87 Trans Am seats are the same as my 87 Sunbird Convertible seats. Some Third Gen and even 4th Gen Camaro's had a leather seat option. I don't believe the seat tracks are the same, but just swap yours to the bottom of the replacement seat and it should be a bolt in swap. Also some special f body cars came with Recarro bucket seats with airbag lumbar and six way power seats, those had manual seat tracks. I put a set of the recarros in my Trans Am I got out of a wrecked 87 GTA, the color was beige / light tan.bucket
Also some Gran Am SE or Grand Prix SE (cant remember for sure at the moment) power seat mechanism can be swapped in to make your ride a rare power seat jbody. The Pontiac power seat unit I swapped in had a great switch holding garnish molding that screwed to the outside of the existing seat, where as the one I got out of a narrow 4dr buick did not have the cool garnish molding so the switch is laying on the floor beside the seat for the time being.
If you can find a cobolt ss, those are recaro seats, and they bolt right in as well.