Hi,
At 230,000 miles now

EagleSmoke is rattling going over bumps now, sounds like about 2-3 rattles originating near the right hand strut tower after going over the bump. She still has the factory struts. No parts have been replaced there since the car was new. Any ideas what could cause this? Time for new struts?
Thanks!
"You can argue with your maker, but in the end you just can't win."- Rich Mullins
Bearings, CV joints, strut mount, ball joints, sway bar links, control arm bushings, tie rod ends...Pretty much any of those could be your problem, and if you've never replaced any of them, I'd do all of them on both sides, plus struts. I would never put over 200K on those parts without replacing them. You can get Monroe Quick Struts (ready to drop in with mounts and springs), and new control arms with the bushings and ball joints already installed. That will save a bunch of work, which will save labor if you're having it done.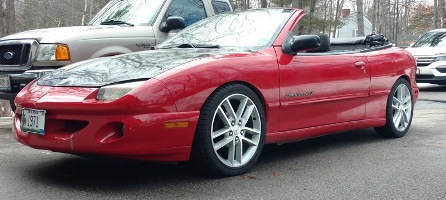 Anyone know of a place to get steering rack bushings?


"Oil Leak ? What oil Leak ? Oh, Thats Just The Sweat From All The HorsePower!!"


O.E.M Front Inner sway bar bushings are junk...specially hitting a hole/bump/sewer grate on 1 side.
.........and that's my situation on the last 2 cavy's