I have a few questions with your set up?
what year car?

what size wheel ?

what brand of wheel?

what type of rear brakes?

thanks in advance

well mine is "running" in the closet so lol i dont know how much help ill be but...
1998 z24, 17X7 velox pg5s forged wheels, saturn rear disc swap with OEM/jeffie brackets.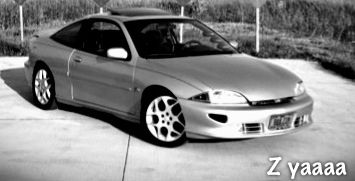 It's nice to be injected but love being blown.
04 Cavalier
16", 17"
Maxxim Advance
Focal FO5
Stock rear brakes.... for now.

What kind of offset are you guys running?

'05
18x7.7.5 +45 Enkei EDR9
Stock rear now.

95 Sunfire
18"
Enkei EV5 +45
Neon rear disk brakes.
Chrome Wilwood 'cuz that makes a difference

mine is sittin on the work bench......but when i do install it
wheel will be either a 17x7.5 or 17x8 with a 42mm offset and still looking into custom rear disc
RIP JESSE GERARD.....Youll always be in my thoughts and prayers...