I have some plans for my suspension but would love some input from people who know more about these cars then I do ill post what i want below but if there's something I shouldn't do or something. Better. Please let me know

-Suspension. Plans for my 02-
Kyb strut mounts
Kyb agx adjustable struts
eibach ground control adjustable coil overs
Front strut tower brace
Eibach sway bar set 27mm front/22mm rear
Energy suspensions red polyurethane sway bar bushings
Front cross drilled rotors
Ebc red stuff ceramic front pads
Steel braided front caliper hoses

I was wondering if they made adjustable front links to keep the sway bars properly lined up when the car is lowered
And I was wondering about a front caster camber adjustment kit
And a set of sub frame connectors couldn't seem to find anybody this and was wondering if anyone knew of anywhere that had them

For the rear I want the rear strut tower brace and to do the neon rear disc conversion with cross drilled rear rotors and ebc red stuff ceramic pads
a custom made rear tie bar
Rear strut tower brace
Rear trunk bar
and agai. Was also wondering about some rear adjustable end links


Other mods I want to do include the. 99 grand am/alero aluminium front Cornell arms and all red poly suspension bushings

That is a great list. Only changes I would make is to go with Tokico D-Specs or Koni Yellows to properly handle a drop greater than 1.5" and Powerslot slotted motors as they are a common and highly recommended upgrade.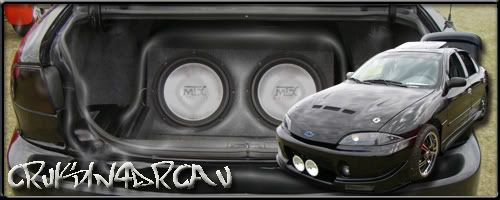 OK thanks I was looking at the agx cause they were adjustable and a little cheaper than koni's had koni's on my cougar n loved them tho.ill tell you never drove a car so fast. Had a 385hp 3.0 duratec with pin drive vortec kit and nos with mtx transfer with quaife diff and 4.5 final drive car was amazing til cylinder 5 wrist pin snapped and we'll parted it out after that and bought my cavi. Buying another cavi from my mom when she sells hers, its a 5 speed 4 door want to do a super charges eco tec swap on that one when I get it. And eventually my dream car is to have a 96 z24 with a 3100 v6 with the 3400 top swap and 3500 upper intake with a single Turbo pushing about 15lbs of boost with a gettable 282 transfer with quaig diff with full suspension including the rear IRS with rear discs. But want the exterior to look stock . I like the z24 body original

you shouldn't need camber bolts unless you plan on dropping more than 2.5". subframe connectors are non-existent for the j-body platform. no adjustable sway bar links but you could always go with a shorter bolt/spacer to level them out. personally, i've never noticed mine to be angled on my setup.
as mentioned, koni's or tokico's are the better option if you plan on lowering over 1.5"... full coilovers may also be something to consider. (tein ss, std's, bc racing, etc)
With the coilovers on your list, I would do Koni for dampers. (Your spending the $ for coilovers, spend the $ for good dampers!)

Other than that, you should be alright.

My last good J-body setup was
Koni sport kit (springs + yellow struts, ~2" lowering after it settled in)
25mm Addco sway bars (F+R)
Adjustable camber bolt (so I could tune in some negative)
Poly suspension bushings
Poly motor/trans mounts
Factory replacement strut mounts
Strut tower braces (F+R)
Stainless brake hoses (F+R - do both, you'll love it)
Hawk HPS pads + Powerslot rotors

All this on a '00 Z24. Tons of fun.


-------------------------------------------------
Sleeper style, they don't see it coming that way.

Strat81 and I both have decently built suspensions on our cavs. Take a look at our profiles for some good ideas.

Hey Mike, I'm a stay at home dad living on one check, and one auto, a 2003 Cavalier. I wanted the best brakes my dollar could buy to not only protect my family, but I ricky race around town like I was on the track, no children in the car when I do this BTW. After considerable research, I bought EBC 3GD7054 discs, and EBC Yellowstuff pads-DP41175R. This setup never failed to give me those very quick stops I desired when coming off the freeway at 108mph. (redline/cutoff on my cav) I don't say stop on a dime as this cars stock size brakes will never compare with that of better breaked vehicles, only a big brake kit will give you that, but for the stock brakes, you can't do much better than EBC, but why go red when you can have yellow for $10 more?

I like EBC due to their UK based manufacturing, and the fact I did not have a runout gauge so slapped them on, and no judder whatsoever untill the pads wore out. The way I drive, this took place at about 11,000 mi so am now replacing with EBC UPR's, (Much less expensive at $38, hope they have the same runout as the 3GD's) but still spent the $98 on Yellowstuff pads. They can take the heat, and not fade. I am aware the UPR's series are more likely to come from china, but am relying on EBC's reputation to ensure the quality of casting is still there as they state they check each disc, individually for runout, and also check the metalergy on any imported discs they use. Crossing my fingers, the discs and pads are sitting right here waiting to go on the car. I know a lot of owners swear by Powerslot, and there is most likely a good reason for this, but I have not used them yet so can't comment.

What I do know is there was no judder in the 3GD/Yellowstuff setup for 11,000 mi of extreme driving. There are heat cracks all over the discs which is understandable with these thin rotors so I don't feel cheated in the least. Drilling, dimpling, cross slotting will all lead to cracks, but in the end, on Cavalier stock size rotors holes or no holes, heat build up from driving as I do will heat/stress crack any disc used. I would recomend going with the slotted rotors as those dimples do crack just as holes do, and I'm really not sure if the benefit is there when using such a small rotor. Might be better with the extra metal by not drilling, and more pad area contact also. Good luck to youin any case, just my two cents. Just remembered, I'll give another cent. lol I also was going to purchase Hawk HPS pads (low cost) as the reviews I read were all excellent, but if you dig into the internet, you get true ratings, and HPS pads don't cut the mustard as they say so I stayed with what I know stops this vehicle stop after stop with very little fade. It gets louder as the discs get hot, and pedal preasure increases as well, but the metalergy in 3GD rotors in combination with yellowstuff pads took that extreme heat for a year of constant 100 mph stops, and my around town ricky racing which also saw quite high speeds, and constant stops. Don't get Hawk if you want the car to be Race ready, they won't get the job done. Here come the comments! lol I drive extremely hard, and anyone who thinks Hawks are a good pad for this kind of driving, is not driving to the extreme as I do. So please, EBC $98 or Hawk $57, don't compare these two pads in one sentance. For an everyday pad I'm sure the Hawks are great, especially at $57 bucks, but they do not compare to the EBC's, red or yellow! Take care all