Anyone know where to find splined/teethed bolts like what are used in our upper strut mounts to fasten to the strut tower? My Tein's have a few butchered bolts that I want to replace before installing. I've checked Fastenal, McMaster-Carr, MSC, ARP, etc, and unless I'm completely missing them in their catalogs, I'm not finding anything.
They are m8 x 1.25 x 25. I'd rather not weld a bolt to the mount if I can do it the right way.
And I did check with Tein, they don't sell them separately, they will only replace them if they are doing service work.
Thanks in advance.

Why don't you just get a Die and re-thread them?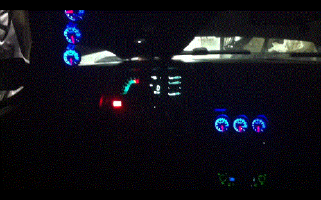 On the inside my car looks like a fighter jet.
I have a die. These threads are beyond repair.

Hey man have u checked at any local auto parts stores sometimes adavanced auto auto zone or pep boys sell those bolts it may be worth it to just stop out at a few of them on 5th street...

Actually i was just at NAPA at hyde villa and they didn't come up with anything...and they're by far the most competent parts store in the area...i don't trust anyone at advance/Autozone etc on 5th street to even count change correctly lol. Thanks though
Someone may have a line on some for me. Until then i just knocked out the bad ones and used a bolt/nut so i can at least move the car around

Company Name: JHP Fasteners member logo
Street Address:
City: Grand Rapids
State/Province: MI
Zip Code/Postal Code: 49505
Country: USA
https://www.fastenersclearinghouse.com
Sales Contact: Sales - JHP Fasteners
Phone: P. 616.913.0060 F. 616.913.0085
Email: sales@jhpfasteners.com
Minimum Order Total: $25.00
Minimum Line Item: N/M
Part Number: SFH000M825D
Quantity Onhand: 664
Item Last Updated: 12/26/2012
Description: - M8, Self-Clinching Stud
Size: M8-1.25 x 25
Material: Steel
Finish: Zinc
Stock Location: Grand Rapids, MI
OR
Company Name: JHP Fasteners member logo
Street Address:
City: Grand Rapids
State/Province: MI
Zip Code/Postal Code: 49505
Country: USA
Sales Contact: Sales - JHP Fasteners
Phone: P. 616.913.0060 F. 616.913.0085
Email: sales@jhpfasteners.com
Minimum Order Total: $25.00
Minimum Line Item: N/M
Part Number: SFH000M825C
Quantity Onhand: 985
Item Last Updated: 12/26/2012
Description: - M8, Self-Clinching Stud
Size: M8-1.25 x 25
Material: 300 Stainless (A1,A2,18-8, 304, 316 etc.)
Finish: Plain
Stock Location: Grand Rapids, MI