Ok so my I'm posting this in the suspension forum cause theirs no steering forums lol. So my problem is my 2000 sunfire will pull in the direction I last turned the wheel. Lets say I cranked it to the right and straighend the wheel out, my car wants to keep pulling to the right. Same as the left side. but it donly does it if I turn the wheel more than halfway. If I take small turns my car won't pull.
I have recently changed the struts from lowering to stock for the winter and it continued to do this after I changed all 4 struts. I have not yet gotten an alignment as I will soon be puttin in air ride and I will just do it then. But the alignment seems fine when I get the wheel straightend out I can drive a straight road with no hands for a good 2 or 3 mins. Anyone have an idea what this could be? I was thinking it was the strut mout bearings but it continued after I removed them.

Check ball joints and tie rods. Jack the car up, throw some jack stands under it, and crawl u see the front end. Have someone turn the wheel back and forth and look/listen for anything out of the ordinary.
Check tire pressures and tire wear.
Listen to the upper strut mounts when someone turns the wheel. Rotate smooth or bind/crack/pop?
SPD RCR Z
-
'02 Z24
420whp
SLO GOAT
-
'04 GTO
305whp
RACER X
-
'78 Opel Kadett
W41 Swap

Probably wore the balljoints being lowered and now since its raised it catches in a groove when turning.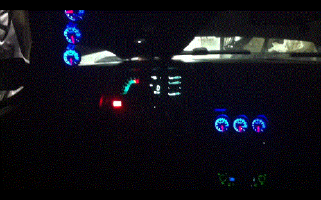 On the inside my car looks like a fighter jet.
I was think ball joint, an that's a good observation rob! I will jack it up with weekend and check for play thanks alot!

The ball joints and tie rod ends are probably original and more than likely shot.