I have H&R springs, and i just installed monroe mounts and I now get a clunk. The mounts don't fit the springs right, so move the spring when its mounted. If I had stock springs I don't think it would be an issue. Anyone else have this issue? I'm either going to get stock gm or ht motor sports.

So when you jack the car up you can move the spring?

If that's the case that's because its a shorter spring than stock.

A stock spring wont move around because its longer and under tension. You wont be changing anything by goin with a Gm mount.

What struts do you have?

I tried many brands of rear strut mounts. Some on lowering springs, some on stock springs. They all clunked. The only ones that didn't were after market performance solid mounts made by O.E.M.

Does this ht motor sports still exist? I like their design with the bushing in the mount not on top. But oem is also an option

Im pretty sure they stopped making them for us ages ago. Thy only made a few sets from what I can remember.

When I first lowered my car, I had H&R Springs on OEM struts. Never had the 'clunking' noise. I had them sitting around for about 3 years and actually just sold them last month to a guy who HAD 'clunking' on his stock set up. Now that he doesnt have 'clunking' anymore he's a happy dude.
Not sure if you have checked or not, but see if 1 of the mount bolts have fallen out, the 1 mount nut on the inside is loose, or the main strut locking nut has some play. You possibly could have a blown strut, so for the half hour or so to take our the strut and review, it would be worth your time.. I've seen when a blown strut cambers on the mount and rubs against the pass through hole for the top of the strut, which will make a noise as well. Even re-installing the strut may set in place better and cause the nose to stop.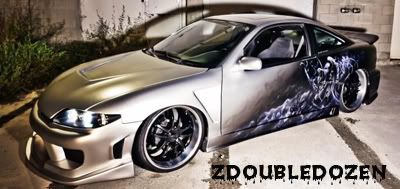 I did that a month ago, because I thought the strut nuts backed off. The struts looked good, and I replaced the nuts, and thats when I noticed the how the mount wiggled in the spring. I think the mount is suppose to touch the inner part of the spring. Thats why I thought how after market does things close to factory specs, so it fits but not perfectly.

are you running stock struts and shocks? i bought Monroe mounts for my tokico hp blues/ tien s tech setup and when i put them together to ensure i had the right mounts the mount fit flush across the top of the spring and i had no looseness in the spring at all. this might be because i'm using a lowering strut/shock with the lowering springs. just food for thought.
I'm running tokico d-specs with H&R's and gm replacement mounts. I haven't noticed any clunking, but when my old J clunked it turned out to be a bad strut. I know you already checked it but just my .02
"In Oldskool we trust"
Spook 427 wrote:

I'm running kyb agr's. What if I installed Prothane Coil Spring Isolators on the strut to take up space?
http://www.summitracing.com/parts/ptp-6-1701-bl/overview/
there's supposed to be spring isolators in the front struts, the bottom one is also for locating the spring properly on the strut perch.
So my rear struts are worn out, they are 7 years old so I guest I got my money out of them. Should I put kyb agx's back in or go koni yellow's? Where can I get them cheap?