This may be a dumb question but just got into a debate with a friend about the position of the wear indicator on brake pads. I actually never really thought about it until now but just wondering what others opinion is?
In my opinion it doesn't really matter but I always have installed the pads so that the wear indicator is up so you can see how close it is to your rotor. I also inspect the pads occasionally but it gives you an idea of when your brakes are getting close to being in need of replacing. But in this position it is the first to come into contact before the pad when driving. He thinks it will bend inward and break off? If it was mounted on bottom, it would drag and just bend outward. I can see his theory but as the pads wear very slowly, the wear indicator will slowly less than a hair make contact and continue to probably wear just as fast or faster than the pad itself so it wont be like if you apply the brake, the indicator pushes into the pad a 1/4" or anything. I did google this question and found it to be about 50/50 on what is "right", so sorry if this is a dumb question but has just been kind of bugging me now. I also just installed Powerslots with Hawk pads so I am a little more curious now that the wear indicator could go into the slot if he is right? Had Hawks with Wagner Rotors before.


2000 Cavalier Z24 5spd - Intake, Dynomax muffler, Hawk Pads, Powerslot rotors, Sportlines/Koni reds, Neon Coil, MSD 8.5 Wires - **SOLD**
2014 Kia Forte Koup SX 6spd - 1.6L Turbo - My new car
2015 Kia Sorento EX V6 AWD - Wifes Car


Doesn't matter where it is. It's only purpose is to vibrate when it hits the rotor and make the squeal noise. Some pads will only mount one direction, forcing you to put the tab at one end or the other, so for those, that's the "right" way. But for non-directional mounting, it doesn't matter at all.
.
I know when I have mine toward the firewall they never hit as all 3rd gens I have seen the front of the pad wears quicker.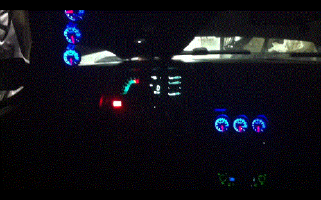 On the inside my car looks like a fighter jet.
Thanks for the replies, I didn't think it mattered but thought I would ask.


2000 Cavalier Z24 5spd - Intake, Dynomax muffler, Hawk Pads, Powerslot rotors, Sportlines/Koni reds, Neon Coil, MSD 8.5 Wires - **SOLD**
2014 Kia Forte Koup SX 6spd - 1.6L Turbo - My new car
2015 Kia Sorento EX V6 AWD - Wifes Car