so i hit a curb side ways with my back left wheel and it dented in a little like this / not to much but i believe it was noticeable when driving. my question is. what is bent in the control arm? suspension? or something else and how much would it cost to straighten it out

Remove the wheel and do a good visual inspection.Just depends on how the rim absorbed the blow and force put on the rear suspension.If the control arm looks undisturbed or tweaked.Next place a aerosol can as close to the hub not touching and rotate the hub and look for any gaps in the rotation of the hub/bearing if it is less that say 3/16 to a 1/8 it should be ok(but this varies).You really want zero gaps or waviness in the hub as this causes vibrations and a out of balance wheel.Just some thoughts and sometimes damage to a control arm is not visible.Check the rubber bushings on the arm for a pinched area or purtrusion of the rubber out of arm.How fast were you going as this can better determine things as well.
What year cavalier do you have? It's probably a 3rd gen but if its a 1st or 2nd gen, it may be different.... anyways, you don't have control arms on the rear, you have an axle beam.
click here
that is probably what you need, you could probably find one at a junkyard.
2000 Cavalier Z24 5spd - Intake, Dynomax muffler, Hawk Pads, Powerslot rotors, Sportlines/Koni reds, Neon Coil, MSD 8.5 Wires - **SOLD**
2014 Kia Forte Koup SX 6spd - 1.6L Turbo - My new car
2015 Kia Sorento EX V6 AWD - Wifes Car
To add, the frame(unibody) may be bent as well, depending on how hard you hit, not sure how to check besides getting a body shop to look at it?


2000 Cavalier Z24 5spd - Intake, Dynomax muffler, Hawk Pads, Powerslot rotors, Sportlines/Koni reds, Neon Coil, MSD 8.5 Wires - **SOLD**
2014 Kia Forte Koup SX 6spd - 1.6L Turbo - My new car
2015 Kia Sorento EX V6 AWD - Wifes Car


its a 3rd gen and i probally hit it at 5-15km ish, and when you say it doesnt last long what do you mean by that because i have no money to fix it this week and i have to do a 300km trip this friday i dont want my wheel breaking off mid drive or something. also when i drive 100+ the car doesnt vibrate but when i make lane changes it weels like my back kind of fish tails. if i really gas it on a lane change it almost went into a skid as if i was gasing it on a back wheel drive car

Do you have a picture of the damage? Is the tire making full contact to the road. It may be bent in that it is not causing any vibrations and car drives straight but from the sounds of it, the tire is not making full contact, causing camber issues, the would explain the issues you are having. From the sounds of it, I think everyone on here will agree that the car is unsafe to drive and you may need to make arrangements for other sources of transportation. It may be "drivable" if it is going directly to a shop for repairs but other than that, I would not drive the car.
From the impact, the hub bearing assembly could be damaged or weakened. Sounds like you will need a rear axle and wheel bearing at minimal. Also if you keep driving like that, you will probably need a new tire too. There may be other parts that are being stressed by the damage as well. I understand money may be an issue, I am sure many of us on this forum have been there before, but this is a serious safety issue here as well, not just to you but other drivers on the road.


2000 Cavalier Z24 5spd - Intake, Dynomax muffler, Hawk Pads, Powerslot rotors, Sportlines/Koni reds, Neon Coil, MSD 8.5 Wires - **SOLD**
2014 Kia Forte Koup SX 6spd - 1.6L Turbo - My new car
2015 Kia Sorento EX V6 AWD - Wifes Car


Exactly what rick said. When any bearing assembly gets impacted it causes damage. It maybe be sooner or later, but it will begin to wine, shake, and worse case it will come apart. The car is not safe to drive at this time. It sounds very unstable to drive. To save you money and your well being i would park it man. Compair unibody were your axle mounts side to side to try and detect damage look for broke or cracking paint and check your strut as well. If you got to hit the junk yard for parts it will save you a ton of moneIf you get a bearing from a yard check it for play and movement and make sure it dont sound like rocks when you turn it. And a heathly bearing will Spin and be a little tight if its really free and spins forever go to the next car. Good luck man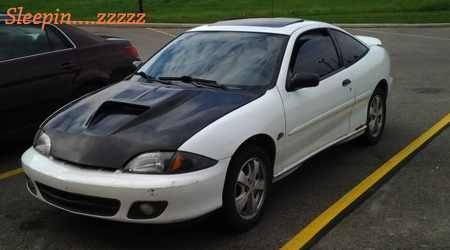 I Love My J ♡