just would like to know if anyone knows what rotors and calipers would work with these brackets on my 05 cavalier ?

is it neon rotors with Saturn calipers or Saturn rotors and Saturn calipers?

and who makes these brackets thanks

That looks like a Baer bracket, which uses Corvette rotors (redrilled) and Camaro calipers, IIRC.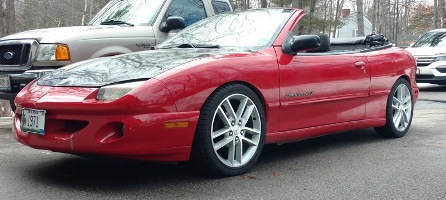 I have a set of the Camaro 1's here and compared these 1's to mine and mine are longer but are the same width as these and the holes line up for the bracket, they have to be for smaller rotors its just what setup lol
Skr8 Goodz in tha hood
Sounds like you're going to have to do some research. The only brackets I know of that look like that are the Baer ones.
What I would do is get a Camaro caliper, mount it to the plate and a hub, and take the measurement from the inside edge of the caliper (where the rotor goes) to the center of the hub. Double that measurement and you've got your rotor diameter. Now, look up the Vette rotors and take those dimensions (using your measurement as the diameter) and try to match them to another rotor. I suspect it may actually be a Camaro rotor, which is likely a smaller diameter one than a Vette, but I'm not sure.