I've been lowered on my stock struts with tein s techs for going on 2 months and I've had absolutely no problems with them yet. Car handles like a champ now.


Got heem!

Lol. Bring the car to PA and I'll show you a cavalier that handles like a champ. Then Strat can show you one that handles like a god.
But wait. What is this in your profile?
2003 Chevy Cavalier LS Sport Coupe
K&N Short Ram Intake
Megan Racing Lowering Springs
Red Interior Neons
Young and dumb, we all have been there. Once you drive a car with a properly set-up suspension you'll wonder why you even bothered cheaping out in the 1st place.
So you're boasting about being lowered with struts that are in no way designed to be in a lowered application . Congratulations?
There's such a thing as cheap suspension parts?
Tinkles, I actually haven't been on in 2 months so I had no time to change it. I was going to put on Megan's springs but got S techs instead


Got heem!

6 years on my cav (sportlines and stock struts). Yeah, it doesn't handle so well anymore (or at anytime for that matter). Though it's just mainly used to go to the convenience store a mile from home every few days.
Now my Sunfire on tien ss, like rails.
Been there donee that. Know better.
FU Tuning
Addicted to meth wrote:

Been there donee that. Know better.
X2
The only people who GAF about you being lowered on stock struts are the ones that come here and ask if it's OK, but are really just hoping to hear what they want to hear, and don't want the truth.
They're going to blow, they already ride like shit, but you don't know any better, and eventually, you'll figure it out. Hopefully you do before it blows and you cause an accident and someone gets hurt.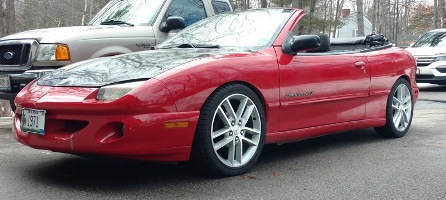 Tinkles(KGM) wrote:

Lol. Bring the car to PA and I'll show you a cavalier that handles like a champ.
That goes for Boston too.
You won't know there's a problem until it's too late.
"In Oldskool we trust"
oh those struts are already blown. Probably blown on the first drive lowered.
FU Tuning
These guys speak words of wisdom. I cheaped out on my first J with lowered springs on stock struts and I too thought "wow this thing handles nice". Now I know much better and did things right with my second one. Tein SS's with all busings replaced with polly and delrin and soon to be enough braces and supports to make the body stiff as can be and she handles like a dream.

Hell my stock struts blew on the stock springs...