Ok! I have checked the search button guys and have done some reading. Everyone is talking about lowering there cars and what springs to use. I have a yellow 2003 cavalier show car in the making. It has a sound system in the rear and the factory springs and struts are already sagging noticably in the rear. It is sounding like the KOni yellow's and Ground Control are the setup to die for. Yes I am going to lower the car a little bit but I am going to put fiberglass in the trunk this summer and that is going to make it even heavier. Can these springs handle a spacer or something? I don't want to slam the car. My wife still drives as an everyday car. The ride still has to be descent. I can lower the front end so far before the weight of the rear sound system throws the balance off again. any suggestions are greatly appreciated in advance.

I know exactly what you are talking about, I run prob 200lbs of stuff in the trunk, my box weighs 130 alone. When I had a stock suspension the rear looked like it was already lowered in the back but still stock height at the front. Handling was miserable and high speed heavy braking while turning was dangerous because the back end would just jump out. I have things fairly nuetral now this is what I did to correct the problem.
I got the RK Pro Street Full setup and set the front to being dropped pretty far only about a 2 finger wheel gap and set the rear to about a fist wheel gap, this sets the balance of the car a little better. I have a addco Rear swaybar and High Rev front subframe brace with front swaybar endlinks being replaced with poly bushings and the poly control arm bushings. This increases handling and balances the car out. Now under high speed sharp cornering and heavy breaking the car will still tend to oversteer with the backend jumping out but is more controlable and predictable. If I was doing 60 on an on ramp and I had to slam on the brakes I can do it and not wreck, before I probably would have.
Now also being that we have more weight than the average J-body there is some other parts that will wear prematurely and should be upgraded. All that extra weight launching puts enormous pressure on your clutch (not sure if you have a manual if not ignore this part) and it will wear out so I replaced that with a Spec Stage I still has the stock feel and its more street friendly but has Kung FU Grip. Once your going and you need to come to a stop you have physics working against you again, all that extra weight puts more wear on your brakes, Im upgrading to the 11inch Baer Rear disks and getting rid of those lousy drum brakes and getting the RSM Racing 12 inch kit for up front. This is a setup that is used on many auto x cars, it may seem like overkill but it will help with high speed braking and wont wear out in 10-20k like your stock ones are bound too, If you cant afford the brake kits at least upgrade to the Rototech Rotors with Ti22 pads, ive had them on for 30k with no significant wear and they can bring me to a stop better than stock.
I understand completely your problem and I've been there I hope that my experiences will help you understand what needs to be done.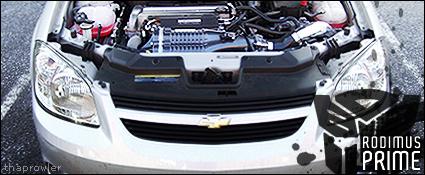 1989 Turbo Trans Am #82, 2007 Cobalt SS G85
Thanks man! I am doing the full brake conversions front and back this summer. I have to do the suspension first. I can only afford one expensive thing every couple of months, but it is getting done right the first time. Yes it is a manual tranny. I have noticed that on the rear brake conversion kits like on rksports.com, that the rotors and calipers aren't the same as the front brake conversions. Is there some where I can get a rear conversion kit that has the same front calipers and rotors?
So I am on the right track with the suspension issue. It's now just me pounding my head into the desk to see which set up I want to purchase.

Thanks alot!!
Why would you want to use the same calipers on the front as the back? You need more braking power in the front, with the back brakes just keeping everything under control so the front brakes should be bigger.
Most of the conversion kits use a dual-piston caliper for the front. They're made to be front calipers so there's no sort of parking brake mechanism built in.
The rear calipers have a built in mechanical parking brake mechanism.
As for the suspension... to get exactly what you want you'd be best going with a set of Koni Yellows and then working with Ground Control to figure out what springs will best suit your needs. It might even take a couple tries, but you can pick the exact spring height and rate that you need to even things out and keep the car under control.
Thanks for the input Wild, but maybe I didn't clarify enough on the rotor situation. The conversion kit for the front is slotted and rear isn't. I understand the caliper situation, but for looks purposes I want the rear rotors to be slotted as well. I can't find someone who sells the conversion for the rear and the front with the same rotor types.

Do you know where I could get colored calipers for a cavalier without them being painted maybe as in aluminum or something?

Thanks alot!