Hey guys recently my 2004 Cavalier has been throwing the abs light and brake light and im not sure whats going on. About 2 months ago I sprayed my brake calibers and my rear drums yellow and the next day the abs light came on. After that I never saw it again until two days ago now both lights come on daily, but its never instant it might take me rolling about 3 miles before that happens. Also I noticed every once n a while since the light has been coming on I can press the brake and I can feel a crunch bumpy type feeling n the brake pedal itself from there I can hear the brake slip a bit then it'd slow the car down..... Whats going on

did you get a code pulled on it? it could be as easy as a wheel sensor, or the ABS module could have a problem, brake fluid could have absorbed enough water to cause a problem.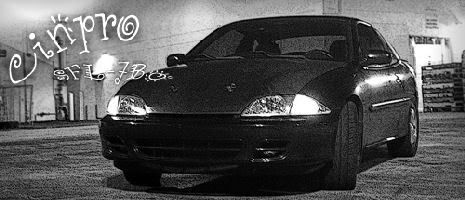 Can an abs machine tell me that?as far as the water

there is a device called a brake fluid tester that you dip into your brake fluid and its tests the precentage of water in it and show up on a little how much water is it in and weither or not it needs to be changed.
http://www.bing.com/images/search?q=brake+fluid+tester&view=detail&id=BC38AF1137AA286CF1CF0FD3BF1A7E13CF11B0BD
green is good, red means it needs to be replaced.
150.0 DB, Loudest in Atlantic Canada, Street Class A.
Next year 155 DB
Water will not trip abs..
Abs looks for different wheel speeds or faulty wiring to the sensor..
It will trip the brake light if there is more pressure in the master cylinder in 1 side than the other.. Also unlikely..
Probley did some thing to the car when u painted everything.. Did you paint the stuff on the car?