I'm just starting to look into suspension. I found these.
http://www.carcustoms.net/product_info.php?cPath=265_22_33_114&products_id=68
The title says "for stock struts". and they make ones for KYB and Koni as well.
I'm just wondering if anyone has any experience with these.
And on top of that, Would I be better off getting the ones made for KYB or Koni versus the Stock one.
Thanks

How low do you plan on going?
Your stock struts will blow running these
KYBs will probably blow running these
Koni Yellows will be fine
Tokico D-specs will also work... though you need the sleeves machined.





________________________________________.
Still not low enough for a signature.


Looks like I'll be getting them with the Koni's then, Thanks man. I'm hoping to go around 2" front and 2.25" or so in back.

Should be easily done. I've got them with D-Specs, swapped out the 8" springs (in the rear) for 6" and got heavier springs for up front.

Kinda wish I would of went with a true coilover... but whatever.




________________________________________.
Still not low enough for a signature.


I run them with Koni reds (now discontinued). Overall not bad for a starter set, but like Twenty4z said, they don't compete to a true coilover. I'll be ditching them soon in favor of Teins.
And honestly, til you spend $400 on the GC's and another $400-500 on struts, your almost at the price of true coilovers. You can grab Tein basics for about a grand I think, and Tein SS's for only a few hundred more. I got my GCs used and at a deal I couldn't refuse, but if I originally bought them full retail, I would've passed and gotten Teins right off the bat.

For a grand you could also pickup BC racing coilocers from Kronos performance over at ecotecforum.com
Your text to link here...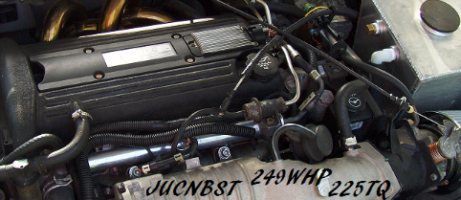 Shoot I didn't even know those BC Coilovers were out there. For the price I think that's my new plan.

Thats what I'm getting too. The only thing they don't have that the twin as does is rear pillow mounts. You can get those from trubo tech racing I believe.

tein ss not twin as haha stupid auto-correct

Don't buy Chinese crap coilovers.
QUALITY GC coilover setup for sale with Dspecs.
You get what you pay for in the suspension department..
BeardLife
/
Club Awesome Reject Blog