Depends on what you have as far as gear ratios. The 2.4 cars have the 3.91, the 2.2's have a 3.58. Isuzu cars can also have a 3.83 and a 4.11 available. Depends on the year and make of car on what you can get ahold of. They also have a different syncro in them. Transporter7220 is really the guy that knows the stuff on that trans.
The Isuzu MK7 is the transmission though... not sure what all cars it comes in.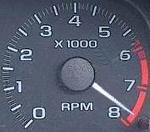 i find it amusing that SHOoff has nothing better to do but follow me around & be an unhelpful dick in even cross-forum. - Jon Mick
Isuzu Stylus, Geo Storm. The OHC engines (Storm GSi, forget the Stylus model) are the ones with the 4.11 gears.
Search "Isuzu Gear Ratios" in the transmission forum. There are about 2-3 good threads on the gear swaps, carrier swaps.
The carriers are stronger in all the Isuzu versions than the GM versions (J-body), the synchros are one piece metal. Those are the biggest strength issues. Once you get past that, the options of gearing are where it's at.