I'm so sorry about all the cap's lock's, but god i cannot find the answer to my question what so ever..

im going to replace my cluster , i have a 1999 cavalier z-24 im doing it in, is my mileage stored in cluster?? i noticed some people say 95-99 it's in cluster and 00+ in bcm (body control module)
so which one is it??? as i can find a cluster from a high mileage car for cheeper so thus im asking,,,thankyou!!

also i bought this 99 cavalier z-24 from original owner,,overall mint, not a dent etc, but he said he never did timing chain or water pump,,,,, 130k miles on original timing chain, is that ok for cavalier or are they like a honda timing belt that every 100k it has to be swapped?

1. Anything under 2000 is stored in the cluster for the miles.
2. A timing chain is not the same as a timing belt. A chain will last longer by almost all instances. Please do not compare a rubber belt to a metal chain. 100k is the recommended time to replace it. Will it break any time soon? Most likely not, but preventive maintenance on an interference motor is a good idea if you care to keep it running longer. I personally would do a water pump and timing set to be safe. Along with new seals and etc... Especially if you hear chain raddle.
Also, why are you replacing the cluster? Just wondering.
I was just wondering whats the regular maintence on these 2.4s as far as timing goes..
And my cluster the tacho isint smooth..its jump around and if I hit dash it works sometimes..same with temp gauge..so I figured cl uster be best bet..then trying to fix this one..

And ok so my '99 digital cluster z24 has miles in cluster? So I need to find exact miles not bcm??

Lost the timing chain in mine at about 60k. Typically what happens though is the tensioner goes bad. It's got plastic in there, and hot oil in there. Plastic and Hot don't go together well. So usually that tensioner will go bad first. And at that point, you can hear it pretty well. Usually they don't just snap as a surprise.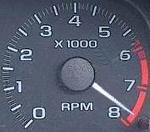 i find it amusing that SHOoff has nothing better to do but follow me around & be an unhelpful dick in even cross-forum. - Jon Mick