Has anyone ever run into a problem with running a 2.2L. Pump on a 3400 pcm system

nope because the 3400 cars use the same pump sendng unit as a j body so you may need to look somewhere else if your havin an issue



JBO since July 30, 2001

No I don't have any issues...I was going over wiring diagrams and the 3400 pcm has one blk/wht wire coming off and 2.2 is different colour......I've figured it out now i just was wondering if anyone else was having a problem.....didn't see any forum about fuel pumps

The fuel pump gets it's power from the fuel pump relay. The relay has power running to it at all times that the key is on. The relay pulls in when the PCM applies a ground to it, which in turn, closes the circuit for the fuel pump making it turn on.
Basically, all you have to do is hook the fuel pump wire from the 3400 PCM, to the 2.2L fuel pump wire.
I know you said you figured it out, just posting for future reference in the slight chance that people come on here to do the swap, and actually use the search button.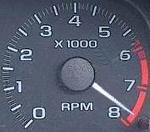 i find it amusing that SHOoff has nothing better to do but follow me around & be an unhelpful dick in even cross-forum. - Jon Mick
Thanks.....there are two wires that are different when splicing but after SEARCHING....found out through the diagrams they both end up being similar grounds just routed differently.....electrical can be such a pain in the ass

the solid black is pump ground and the black/white is basicly a ground but its a pcm ground. this is common throughout GM vehcials
what a PCM ground is in this case is the PCM sending 12V through the level sensor and depending on the resistance of the sensor it gets X amount back to groundthis info is also brodcasted to the cluster.
most of the time the colours mean something not 100% but about 99% of the time its this
pinks - igntion positives (hot in ignition cycle)
orange - Battery feed (hot always)
grey - 5v referance
purple - data lines (serial data or of fuel pump sensor) ( this is occasionally an ignition colour aswell)
drk green - Sensor Feed ( could be PCM or BCM)
drk green and white - relay feed ( this is a feed usually from the PCM to a relay such as fuel pump or ac relay)
black is ground
blk wht see above

NO THIS BY NO MEANS WILL TELL YOU HOW TO WIRE A CAR CAUSE GM COULD AND DOES CHANGE THIS AT ANY TIME AND IT WILL SCREW YOU UP IF YOU DON'T READ THE SCHEMATIC.
like some cars use a dk green for a serial data not purple and 12 V igntion feed to the injectors on N and W bodys are pink but j bodys are grey.

and majority of the gm vehcals the item being powered usually is powered and then is controlled using the grounds such as injectors the have 12V then the pcm gounds out the wire that it wants to wire and these wires aren't blk/wht everyone is different. yell/blk, org/blk, red/blk and so on

BASICLY IF YOU DON'T KNOW ASK DON'T ASSUME



JBO since July 30, 2001

Thanks....you are another one on here that sounds like you know your @!#$ (nota2_4)...it is a hell of alot easier with diagrams in front of you...ive been doing alot of reading with these two books...but I'm still waiting on a few parts to get this project rolling...lol...I can't wait to drive it

I've got another good question for you...If I wire this car up as a Montana 03 which is an obd2...If all my idiot lights are out am I gonna have a problem with emission testing because it's suppose to be a 2.2...? ....because now any car with obd2 gets plugged in

no idea if the montanas are the same as the impalas for data streams i would say try it cause the harness wont be that different 98 to 04 was 4 wires that are different.

your only issue in ontario is the vin on the PCM has to match the VIN on the car in the new system might wanna check with garages that e test to answer this question



JBO since July 30, 2001