hey guys i got a 96 z24 2.4 that i was driving the other day, i shut it off to put gas in it and it wont start back its getting fuel but doesnt sound like its hiting any. put another ingition module in it and still nothing, spray either in it for about 10 seconds and it still dont wanna hit and then do it again and then it will hit and run for 2 seconds and shut off, i really need help with this its the last resort i have to drive and cannot lose my job i have two kids and really need help. any help is apprecaited

sounds to me its having a fuel or theft issue.... is your theft light on at all solid... if not it could be the fact the fuel pump has gone bad or fuel filter is clogged try getting your fuel pressure checked if its low that should be your problem


Erik Packard

just put new pump and filter in it, when u turn key on theft light stays on all time so idk

Steps i would take:
Check to make sure all four spark plugs are sparking off ( if you don't know how you can ground the plug to the car outside of the motor and see if it sparks when you turn it over.)
I would also try unhooking the battery, waiting what ever time it takes for reset. (i would wait 15 min) then hook it back up.
Also check to make sure your plugs are wet when you pull them out, if its not starting then they should be wet with gas.
Hope this helps some
Dusty Elkins wrote:

it will hit and run for 2 seconds and shut off
Dusty Elkins wrote:

theft light stays on all time
That would be how PASSlock works on our cars. The relearn procedure is in the FAQ
(clicky)
, and is as follows for your car:
96-99 J-car
1. Attempt to start the vehicle, then leave the ignition ON. The THEFT SYSTEM light telltale will flash for 10 minutes.
2. When the THEFT SYSTEM telltale stops flashing, start the vehicle. Once the vehicle is running, the password is learned.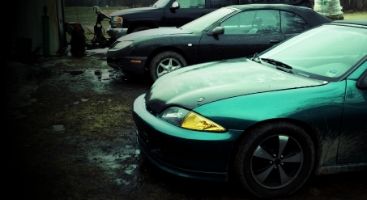 I just removed tha battery and waited 5 minutes put it back on turh the key to acc wait 15 minutes and it turned the theft off!