My car has 223k and the water pump quit. So I bought the tool to avoid having to pull the timing chain cover. My question is how do you get the bolts out of the water pump sprocket without them falling down into the timing chain cover.

Magnet?
Magnetic socket?
Make sure the tool is on solid and not loose.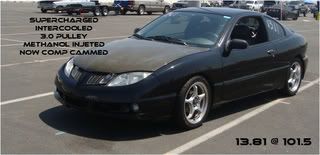 13.3 @ 106 mph Cammed
(Tom) S/C Fire wrote:

Magnet?
Magnetic socket?

Make sure the tool is on solid and not loose.
Socket is on all the way. I guess you would have had totaken the sprocket off an ecotec water pump to understand.
Well I guess it doesn't matter now. I dropped the bolt down inside the timing cover and now I'm screwed.

I'm currently working on replacing the water pump on my 04 cavalier. It all went smooth sailing until it was time to put the bolts connecting the water pump sprocket and the water pump. For some reason the bolts will not reach the holes on the water pump, I have no idea why. I compared the two water pumps and they are the same. Also, I'm using the J 43651 tool that holds the water sprocket in place. nothing has moved as far as i can tell. One last thing, when I use longer screws they go in fine I just don't want to mess anything up by using other longer screws instead of the original ones that were holding the sprocket and the water pump together. Any ides or suggestions are highly appreciated.

Eyeball the holes for the water pump so they are somewhat close to the sprocket holes. Then take a nail and stick it through the sprocket holes and line it up the rest of the way. Just replaced my water pump last night. It takes a while but as long as you don't drop the screws down into the crankcase you'll be fine.