I have a 99 2.4 cavi with a Isuzu tranny and I was wondering can I use
the flywheel and clutch from a 2001 2.4 cavi with a getrag?
and if so can I use my old slave and bearing?

I can tell you for fact the clutch disc will work as the isuzu and getrag have the same input shaft size and spline count. The trowout bearing can not hower.
Im no ld9 expert so I wont comment on the flywheel....but if you have it laying around. Bring it to autozone if they have a stock isuzu flywheel in stock and compare them.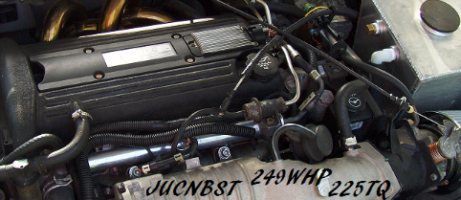 ya I called a shop and they told me the size input shaft
and a couply of people have said that the difference with the fly wheel is that one has a flat flywheel and one has a step up
and if I use the hole setup from 1 or the other it will work but there is not much said about the slave/bearing.
and this is what peeps are saying,,The Isuzu has a stepped flywheel, the getrag's are flat. If you use an isuzu flywheel you can use an isuzu clutch in the getrag. It also works the other way around, you just need to match the flywheel to the clutch. You also have to keep whatever slave cylinder you have to match the tranny, the getrag slave won't work in the isuzu and the isuzu won't work in the getrag.
and use the tob/slave from the tranny I am going to use but nothing about the bearing
and by the way thx any info is good info!!

Glad to help, even happier that you looked into this further and didnt wait for others to chime in. Good luck getting the z on the road.