well my second attempt; here we go, i got a 2003 cavil without engine or tranny, with his licences still legal and with all inspections and authorizations; the car is a LS S i presume, has power mirrors, power windows, normal seats, spoiler in the black, small side skirts, disc brakes in the front, drums in the back, a lot of rust, some change of color (originally blue) here are the pics:
and this is my parts car, the car is complete with all his factory stock parts, and it runs; the problem is that has no licence to be driven, and is only for scrape purpose; got for free so with both cars im planing on doing one like a HULK LOL. the car runs but it has a mayor gas leak in the injectors, something wrong with the cooling sistem among other things... is a 96, base model, manual tranny, stock 14 inch wheels, abs brakes, the a/c is not running (need to be fixed too) manual windows and mirrors
some racing spec nascar mod !
the infamous gas leak
kilometers
I'm pretty sure it won't work because they aren't within the same year range. I could be wrong though.

Good luck, you will have to swap everything from the blue one, interior harness, body harness, fuel tank, dash, everything. 95-99 are the same and 2000-05 are the same. You have two different cars there. Also the transmissions are probably different too.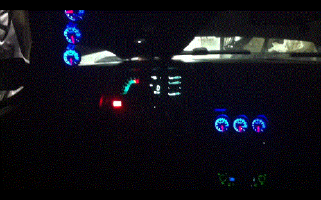 On the inside my car looks like a fighter jet.
Wow. What a POS. Good luck with it.
My suggestion would be to sell off any drivetrain related stuff from the blue one. If you wan to use body parts, that's fine (I like the 95-99 style better than then 03-05 personally), and find yourself an engine from an 03+.
But you're going to have to swap everything, because the electrical and drivetrains of those are completely different cars. After all that, you've got a frankenstein vehicle that's not worth anything. Not to mention the fact that in most states, that will be illegal, since the VIN that the car will be registered under is an 03, and the entire drivetrain is 96, including the computer, which is where they'll get you if they plug it in.