I am 3500 LX9 swapping my 1999 Cavalier 4 dr. 2.2 MT. I currently have the engine running in the car however I'm having a heck of a time figuring out how to get the factory tach and coolant gauge working. Can anyone please shed some light on this situation. Especially if I can get specifics like where to put what wires and what wires are needed to make this happen.

I am using a 1998 Chevy Monte Carlo 3.1 engine harness / ecu / sensors fuel rail injectors etc. etc...

I still have the 1999 Cavalier ECU hooked up partially in hopes to use it for the gauges I guess. Wasn't too sure exactly what it controlled so I only deleted what I knew could go from it.

I don't have a good 1998 Monte Carlo Ecu Diagram / Pinout or anything at the moment. I didn't need one until now.

I have a great Cavalier pinout that has been dead on accurate.


Thank you in advance for any help I may get.

If you haven't already, check out
V6Z24
for a bunch of V6 swap info.
Once you have it figured out post some pics and videos of your ride.
I'll go there and take a look to see what I can find. TY

I can't seem to find much information on this at all. No responses to multiple threads. I know people have done this.

The car is running / driving and I have over 60 miles on it.

I have no Temp gauge on the dash but my scan tool reads it and I'm between 176 and 185. I have no tachometer but my speedometer works just fine.

Car seems to hiccup whenever it feels like it and seems to be lacking a little bit of power. Working on sorting this out now. The only engine code I'm throwing that would affect that would be the TPS so i'll start there today.

http://www.j-body.org/forums/read.php?f=30&i=55190&t=55190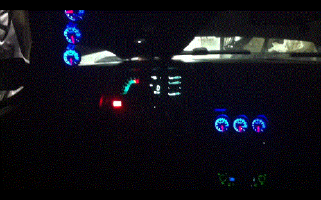 On the inside my car looks like a fighter jet.
Mike, I have a question for you about how you got your engine running. You said it's an LX9, and you're running it off the 98 3.1 ECM. How did you accomplish running that engine on that ECM? They're not directly compatible. If you did what I expect you did, it will make your issues a little easier to deal with.
In order to get your coolant temp and tach working off your Cavalier ECM, you need a coolant temp sensor for that, and a crank trigger for it. I don't think you can get away with splitting the signal off either of them to run two ECMs, so you would have to add them. A crank pulley mounted trigger would work. You can get them from wot-tech.com. For the coolant temp sensor, if you currently have a 2-wire, I believe you can swap it for a 3-wire, and use one of the feeds for your Cavalier ECM. I'm not 100% sure on this, because I haven't tried it, but a sure bet is to add another 2 wire sensor somewhere else in the coolant line.
Alright I figured out the hiccup tonight!!! Car runs PERFECT!!!
So I looked through all of my receipts checking all of the sensors I bought to run this engine and the crank sensor behind the pulley was dead wrong. Went out bought the one for the Monte Carlo and I'm GOLDEN! Runs Mint.
Mr. Quick:
I used an Ext. Crank Trigger from WOT Tech because 7x reluctor vs. 58? on the LX9... So I don't think I can run another one... Can I? If I can i'll just weld another bracket up and double signal that sucker lol.
This harness was so simple to use it was brilliant however it looks like the Monte carlo has individual gauge wires and my cavalier has the single UART / Serial Data line that feeds the gauges. I am still running the Cavalier ECU for my airbags, ABS etc... I only removed what I had to. So I'm thinking I will have to put my serial data wires back into my Cavalier C100 because right now I'm using that for the Monte carlo ECU. Then i'll run the Monte ECU's own Serial Data line under the dash so I can read it still and plug in to pass inspection.
I was thinking that If I can't split the signal maybe I can put a couple of diodes on the end of the wire then split it so it doesn't backfeed to each ECU and throw them off? Just a thought.
The Monte Carlo actually had a 3 wire sensor for the ECT and since my car had a 2 wire and now it has smaller thread pitch on the cylinder head there is only 1 car that worked. 1998 Camaro / Firebird 5.7 .... It's the only car made with the proper sensor. I have ECT through my Scan tool and I have RPM through my scantool just not on the dash.
I just don't want any aftermarket crap in my car this time. I just want my stockish cavalier with some horsepower under the hood. Eibachs / Kyb AGX, 24mm sway bar poly mounts etc ... etc.... but nothing on the outside or inside. oh ya and my 100 shot

Gotta get these gauges working. I'm going to try and tackle it tomorrow night after work and see where it brings me. I'll probably start with ECT as that to me is the most important.
Thank You! G'nite