Been working on this project since april this year. Some major set backs, once I got the motor in and on the first test drive it spun a rod bearing. I bought a wrecked grand prix GTP for the swap and I didnt notice that the oil pan got con-caved on the bottom from the accident so at higher RPMS it starved the engine of oil. So I rebuild the engine with a few other upgrades (pistons rods etc). It has been quite the project. So the weird thing is that this setup does not feel like it has the balls that I thought it would. It feels like its just a normal 3800. Ive driven the grand prix GTPs before and they are pretty quick. Any thoughts?
Attachments

IMG_20150719_182217_252.jpg (1805k)

3400 SWAP DONE. 187WHP 212TQ (14.2 @100MPH NA) 240WHP 310TQ (N2O)
How do you upload pics again on this site? Its been awhile since I have been on here and Its only letting me upload one pic per post.
Attachments

IMG_20150711_194429_672.jpg (1695k)

3400 SWAP DONE. 187WHP 212TQ (14.2 @100MPH NA) 240WHP 310TQ (N2O)
Upload to photo bucket then copy image URL and paste it in. Swap looks good. Maybe need to work out the best way to tune it?

Ever get any numbers? What does it look like now?


- Your not-so-local, untrained, uncertified, backyard mechanic. But my @!#$ runs

I always have liked this swap.
FU Tuning
The car still looks the same with the hood closed

No numbers yet.
3400 SWAP DONE. 187WHP 212TQ (14.2 @100MPH NA) 240WHP 310TQ (N2O)
I haven't snooped around the 3rd gen forum in a while. Cool to see you still have the car.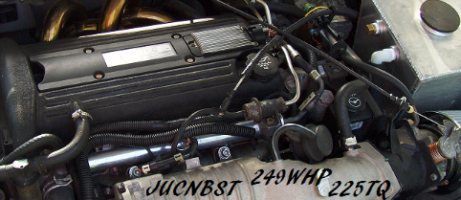 Nice job! I swapped an N/A 3800 into my 4 door, but recently found a CLEAN Z24 Convertible that I am almost finished swapping it into. It's now a supercharged top swap. Only thing I need to finish is some wiring, and install the radiator, fill fluids, and get my PCM back from Sinster Performance later this week. it should be on the road within 2 weeks. Engine has Comp Cam GT1, 2.5 inch full Magnaflow exhaust, F23 Getrag, Stage 3 clutch, A/C delete.
So, I'm curious...has anyone on here has done an L67 swap into a Convertible? Pics for attention!