The purpose of this chop was to replicate what i want my car to look like in the near future. The mods are settle and will stay that way "Exterior-wise".
Wheels / Tires
- The wheels are one the lightest i could find (13.7 lbs). 16"x7" Enkie RPF1 Mat Black W/Blue Lip.
- As for the tires i will probably go with the Direzza Sport Z1 Star Spec's in a 225/50/16 or the Potenza RE-11's.
Exterior
- Ls Sport side skirt
- Either LS Sport Rear, or Custom Painted rear lip
- Paint Door Handles
- Coilovers
- Custom Painted front lip
(Done)
- 00 Z24 Rear trunk w/Spoiler
(Done)
- Paint Mirrors
(Done)
- Tint
(Done)
- Hids
(Done)
Performance
CC welcome.
I'd personally get 17" wheels. strat81 just got those, they look SICK. Unless you're really going for weight, but appearance wise, 17s would look better. Other than that, great chop and I like your plans. Very clean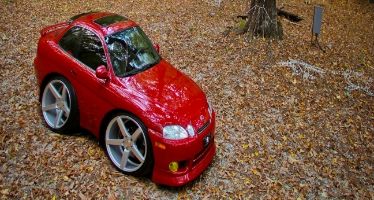 Flickr Photostream
Facebook
Twitter
Looks like a great chop.. one thing I would change is the front wheel. It looks like it's sticking out alot. lol