Im thinking bout buying a nitrous wet kit but i dont know anything bout nitrous, lol, im running a stock 2.4 other then exhaust and intake should i do any engine upgrades before adding the nitrous or im good to spray away?
you want to start filling up with higher octane and get spark plugs 2 steps colder. thats all that you need for a small shot.
Well before you jump right in to the whole nitrous thing, I would highly recommend reading up on it first. Spend some time searching and reading old posts maybe buy a book or two to read. Nitrous kind of has a bad wrap for " blowing motors" but honestly majority of it is mostly user err. If you use it in moderation and set everything up properly you shouldn't have a problem. I blew mine up mainly because I got greedy, but I wont get into that now.
If you plan on running a small shot ei under 75 you should be fine with premium fuel and 1 step colder plugs, and stay away from platinum plugs as thats a big no no with the nitrous. Other than that I would recommend A general tune up, compression test to make sure the motor is running at tip top shape before installing a kit on the car.
I could go on and on but I'll just give you some links for you to look at for now. If you have any questions feel free to ask or send me a pm and I'll do what I can to help you out.
-Jeff
LINKS::::::
Book
http://store.summitracing.com/partdetail.asp?autofilter=1&part=SAD%2DSA50&N=4294924480+4294923453+400217+115&autoview=sku
Nitrous kit manufacturers and suppliers
http://www.dynotunenitrous.com/store/Scripts/default.asp
http://www.edelbrock.com/automotive_new/mc/nitrous_systems/nitrous_main.shtml
http://www.harrisspeedworks.com/shop/home.php
http://www.nitrousexpress.com/
http://www.nitrousdirect.com/
http://www.nitroussupply.com/
http://www.barrygrant.com/nitrous/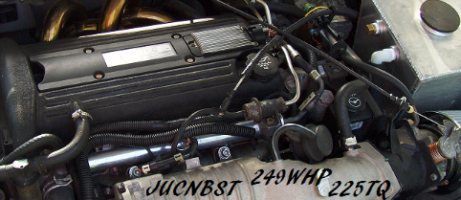 k question one is what are colder plugs lol do you have a brand name and maybe even a part number and could these be used even if i dont have nitrous? I was only thinkng about using a 35 or 50 shot just a little extra giddy up not to out run a helicopter or nothing lol thanks for your help so far
I would also suggest you makre sure your fuel pressure is up to par as well, at least 43psi. If you want, you can just get a walbro 255 or an MSD inline. A nitrous rev limiter is a good idea. If you are going with a 75 shot, you also might wanna think of using an MSD DIS2 and retard the timing 2 degrees. Tho the timing retard is still up in the air, some think you need it others don't. Its more of a safety precaution than anything. HP tuners would help as well.



Scott

When I boost, you boost, we boost
~~~~~~~~~~~~~~~~~~~~~~~~~~~~~~~~~~~~~~~~~~~~~~~~~~~~~~~~~~~~~~~
You have been banned from NEJBODY.
You've displayed wayyy too many acts of pushing people to their limits.
It's never cool to tear people down for what they want to do.
NEJBODY is a team. We're not the same as JBO where everyone bashes on eachother.
I'm surprised you show up to our meets after half of the things you say on here.

now is up to a 75 shot safe? or under 75?


--------
these damn j-bodies are like a**holes... everybody has one!

on a dry shot...


--------
these damn j-bodies are like a**holes... everybody has one!

codler plugs are refering to the heat ranges. they are usually made out of copper. well the core is anyway. most use NGK TR6 plugs, Autolite 103, and some even have luck with stock srt-4 plugs

Im a Xbox 360 fanboy...and damn proud of it!!