I have a stock cavy with a ecotech 2.2 and I am wondering if i would be able to run a Zex 25 shot wet kit on it?


and this is kinda OT: would i be able to beat at 06 cobalt ss supercharged with this and my car is a 4 door

A 25 shot isn't even worth it. The engine itself will take 4 times that much... your fine up to a 75 shot, once you get to a 75 shot there is a risk of fuel puddling in the intake causeing a backfire. My personally I've ran a 100 wet shot on a stock internal eco, I wouldn't recomend that though, thsts pushing the limits
well i was just wondering causse somebody said something about an open loop

just start at 50 and if you feel comfortable going up from that go 75. and with 75 it would be a good race with cobalt.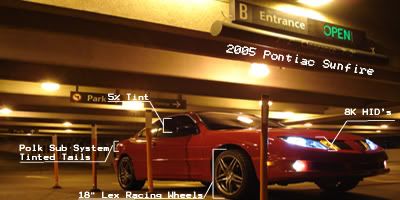 just do the basic bolt ons with the 50 shot and you should poop on the cobalt driver.
i just got ahold of a wet kit but quick question is it possible to shoot my 45 dry at the same time i shoot a 45 wet?

good to know spraying dry shot and wet is okie...i might be getting hptuned soon so ill get some stuff changed to hopefully make the car take the shot better

thinkin about it, if you use it as a two stage system, spraying the dry shot at 45 then SWITCH, NOT PRESS THE 100 wet WITH, over, it would probably put a lil bit less stress on the motor. cause the 100 shot wont kick its ass as in a straight shot of 100, you have a 45 then a 100. But then again, why not just get a progressive nitrous controller. Probably a lot safer.



Scott

When I boost, you boost, we boost
~~~~~~~~~~~~~~~~~~~~~~~~~~~~~~~~~~~~~~~~~~~~~~~~~~~~~~~~~~~~~~~
You have been banned from NEJBODY.
You've displayed wayyy too many acts of pushing people to their limits.
It's never cool to tear people down for what they want to do.
NEJBODY is a team. We're not the same as JBO where everyone bashes on eachother.
I'm surprised you show up to our meets after half of the things you say on here.