I TOOK MY CAR TO THE TRACK AND NOT SURE IF I SHOULD BE HAPPY OR NOT ? mods on right now 2.5 ex , wia,msd coils ,p/p head,afpr(52psi) ,walbro pump, 195cc rc inj . ive got a nos single wet fogger system running a 100 shot . 46 nit and 30 fuel . i think ? now i did have alot of spinn at the line . but the car ran a 15.8 at 87mph
oh the car is a 2200 with a 3spd auto . 115000 miles on it .


13's or blowning it. wayhttp://i39.photobucket.com/albums/e175/slowfire99/100_0463.jpg

dude that really bad in my opinion. That must have not been a very well prep track my suggestion is get sticker, wider tires.
myspace.com/xxnosaerxx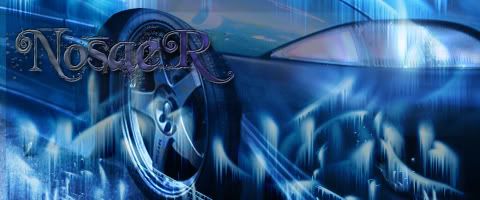 i tought it was pretty bad also i mean im not shooting for 13 's but somewhere in the high 14 's i was hoping for .


13's or blowning it. wayhttp://i39.photobucket.com/albums/e175/slowfire99/100_0463.jpg

Well I dont think that its that bad for a 2 spd. I would look into a stall some dr or slicks. possible a tune w hp tuners since you got some head work and what not. to make the best of what you got done b 4 using the bottle. jsut my .02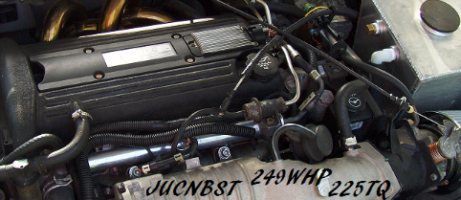 I just say don't spray off the line! Don't engage the nitrous until you get around 20+ mph!
N
2
O
+ Bolt-ons = 220Hp/250Tq
Coming Soon:
HpTunersPro, EagleConnectingRods, WiescoPistons, 13sec2200
next time ill try to wait till 20mph as you said then hit it ? my 60 ft time was 2.48 but with out nitrous my 60 ft time was a 2.53 not much diff lol! ive got a set of 225 /45 potenzas sitting at the house ill put those on next time .hey bballjamal i know your car is a stick but what times did you run on the 100 shoot ? and juiced did you ever get to the track yet ? just curois. thanks guys


13's or blowning it. wayhttp://i39.photobucket.com/albums/e175/slowfire99/100_0463.jpg

I officially never got to go to the track. When I was going to ge a tank of race gas last year before heading to the track my motor went as i was pulling in to gas up. I started collecting parts for a build and then at the begining of this year my father had to go to the emergency room for heart surgery. Since then I have been helping him untill he got caught up on his bills. But I am looking for some pistions now, once I get those all I have left is send the head out for porting, crank scraper/windage tray , and cam and my motor goes to my machinist.
I used to mess around with my buddies on the street and I could crawl away from my buddies dsm that ran mid to high 14s. No official track times though.
What else are you using on your nitrous setup? just a wot switch? If i had and auto and ran a big shot I would run a wot switch, a rpm window switch, and aprogressive controller to help maintain traction. Oh and one more thing, just for added securtity Run 2 nitrous siliniods in series just incase one gets stuck open when you get off it no more gas will get by.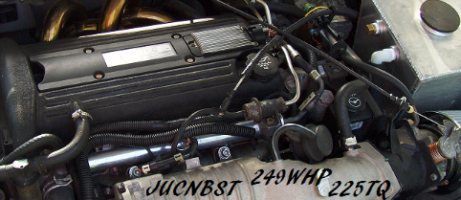 I just looked at ur reg. With every thing you have done you should be good to go. I still think based on your mods you should get a solid tune on it first. Based on what i have seen in the tuning forums you can get a broader power band once you start tuning the fuel and spark tables, even with a stock cam. Every little bit will help you hit your goal. Other than that Get the 2step setup on ur msd box to help with the launch and get some better tires.
Have you done anything with the suspesion yet?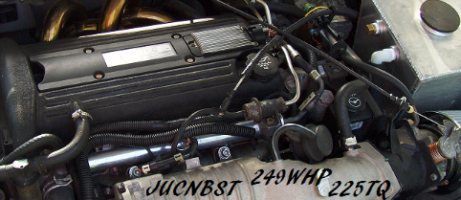 inest in some DR
i usually spray around the 60 foot mark

Im a Xbox 360 fanboy...and damn proud of it!!
3 spd auto = your problem. + wider tires needed.
My Cav
I give up...
i'm buying a VW those people love trees, so they should love eachother too... "Andy"
maybe because the 3 spd is still stock with 115000 on it but not because of the trans itself . its actually one of the strongest and durable gm made . guys in the ferio club have put this on some of there v8 motors pushing over 350 hp . with a gear ratio change if you got the money . and a higher stall converter with a desent rebuild i think the auto will be very competive ? but hey thats my opinion . this hole setup is a challange im taking one of the slowest production setups in the j-body and trying to make it competitive . the 2200 with a 3spd only put down about 85-90hp to the wheels .


13's or blowning it. wayhttp://i39.photobucket.com/albums/e175/slowfire99/100_0463.jpg

I've actually never got the car to the track with the N2o at all sadly enough! I really wanted to get everythinbg done before I moved away from seattle (where I was pulling 15.7's) but by the time I got the nitrous on and got comfortable with it on the 2200 it was already winter up there and I was moving back down here to ATL. I did take the car to the track a couple mnths ago and kept hitting 16.1's the whole night. That was with everything in my car and with the 17's on. I couldn't figure out what was going on with my nitrous but then I later figured out a busted a hole as big as your pinky into my nitrous line going into the TB. Hopefully when I get my engine put back together and get her back up to the track by spring I can go ahead and lay down some 14sec times on atleast a 50shot!
N
2
O
+ Bolt-ons = 220Hp/250Tq
Coming Soon:
HpTunersPro, EagleConnectingRods, WiescoPistons, 13sec2200
well im going to take down to bradenton speedway next friday with a group of friends so we will see if there is any difference .im going to change the tires and maybe some other things well see .


13's or blowning it. wayhttp://i39.photobucket.com/albums/e175/slowfire99/100_0463.jpg