hey guys and girls. ok i have been wanting to go with some spray on my 03 eco cav and have some questions because i don't want to blow up my DD of course.
first of all, wat would be a safe shot to do with a header back exhaust, aem cai, front and rear tranny mounts and upper and lower motor mounts? i was thinking a 50 shot but not sure.
second, what would you guys recommend doing, a dry, wet, or direct port set up? i was thinking wet cause i hear it works well but again, any input would be great.
third, well i guess this is the most important one i have. anyway, can the ecotec handle spray? i have heard that it can't and that is one of the main reasons i don't want to get a kit and hook it up then my a piston through the hood. lmao well its really not funny if it happens.
thanks for looking guys and any input is really appreciated
~1 Mike Asher
BOOSTED FOR MY OWN PLEASURE

If your that worried about spraying your DD then don't do it.
I did and my motor eventually went ( I blew the motor not NO2 )but i live 2 miles from work . Take some time to rad the faqs, buy the gm eco build book, and look into buying some other nitrous books and go from there. Their are so many different ways to intall a kit with different safty switches and what not you most likely would be amazed at what is acually out there.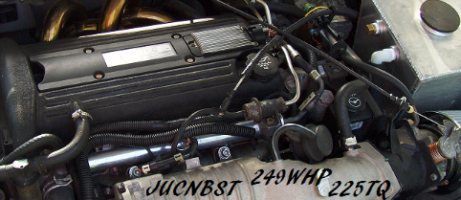 thanx for the input guys. i do have the GM Ecotec build book and have been looking around as far as what kits and everything and haven't found much for the ecotec. i guess i'm just not looking hard enough.
i guess spraying is not in my fortee right now. oh well. looks like i'm gonna dump the money into building the motor, bottom to top. then i'll turbo it. it should be a good winter. hopefully everything pans out the way i want it to.
thankx again guys, the help is appreciated
BOOSTED FOR MY OWN PLEASURE