I want to set up a two stage nitrous system. I know you can set 1 stage for coming off the line to increase traction and then a second after more traction is available. My question is does anyone run a two stage where it is rpm controlled? for example (2,000 - 4,000 50hp) (4,000 - 6,000 100hp). The engine should be able to handle more nitrous at higher rpm.. correct? How are two stages normally set up for drag cars?

It would be ideal to run a 2 stage setup on a FWD car to maximize traction, but for ease of installation ad simplicity i would suggest a progressive controller with dual nitous siliniods to play it safe....then with all the money you save you can get more bottle fills, or save up for some forged pistion.....
I'm tired now but i might come on tomarrow and give you a long answer later...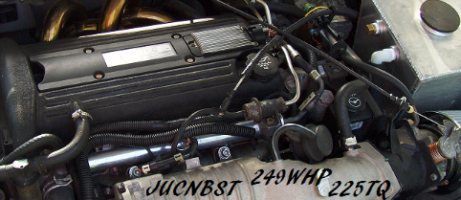 Well i have a nos direct port wet kit and a dry zex kit. i want to run a proggresive 50 shot dry off line then switch of f add a 100 wet.

just sell the dry kit and use the money to buy the controller. Even a cheap controller will do the trick. A really simple one I was looking at let you set how small you want it to start, how big you want it to end, and how long you want it to take to get from the small ammount to the big. I didn't use very good words there, but hopefully you understand. Also, I don't think you would want to set up the 2 stage with rpm windows like that. You would probably want a small shot out of the hole and maybe thru 2nd. And then, hit the big guy in third gear. Maybe you could do 2nd, but you def wouldn't want both of your stages in first gear, its way too short and you will just overwhelm the tires and get crusto 60's. BTW, this is the controller i was talking about. It might be a pos, I've never used it b4, but I was going to give it a shot.
http://www.harrisspeedworks.com/shop/product.php?productid=16653&cat=338&page=1
Well here's what I am going to get.
nullThis will save me from having to buy window switches and also offers an output for my msd 3 stage retard box. The only problem is I want to run my 1st stage progressive 50 shot all throught fist and then switch to a 100 shot about a second or two after it shifts into second. I know you can program with laptop but I don't know if you can skip stage two in 1st gear, or if it has to be the same in all gears. as said above I am going to do a 50 progressive dry, with a direct port wet stage two 100. Does anyone have experience with this controller or have advice on how to set this up the way that I am reffering too.

2 stage is no good, progressive controler is very good