ive got a direct port set up on the car and was going to run a 150 shot on it . well at that level you need a progressive controller . or what i was thinking of doing was a 100 - 125 shot direct port with a additional fogger and solenoid set up with a 50-75 shot in the intake just in front of the t/b on a wide open switch . it would stay spraying the hole run and you could activate the second stage to join it when in second . . what do you think???


13's or blowning it. wayhttp://i39.photobucket.com/albums/e175/slowfire99/100_0463.jpg

a 2 stage setup would be good. When i use my 75shot the 1st gear doesnt connect really well, and spins a little into second. If i were to do a set up like that First stage-( single fogger) would be a 50shot, then the direct port-2nd stage would deliver the 100shot as to maximize traction.
How do you plan on setting up the second stage? Time delay or another switch, also are you running street tires or drag radials, slicks?..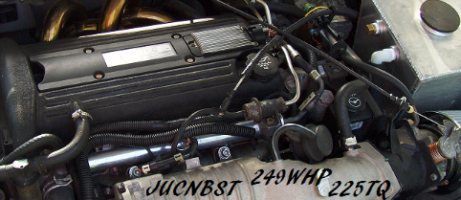 imgoing to set the second on a second switch for know after i get used to it possibly a time delay would be best . ive ordered some drag radials from work but for know ill try it on street tires . they should work seeing the to shots will be spaced out .


13's or blowning it. wayhttp://i39.photobucket.com/albums/e175/slowfire99/100_0463.jpg

Gotcha, you know it may be cheaper and way easier ( less wiring, relays, etc etc,) if you just used the one stage with the progressive. Do you already have the direct port kit?
here are some links to progressive controlers.
Dyno tune
http://www.dynotunenitrous.com/store/Scripts/prodView.asp?idproduct=216
Nitrous Supply
http://www.nitroussupply.com/products.php?cat=40
http://www.hawkinsspeedshop.com/categories/products/product-13.html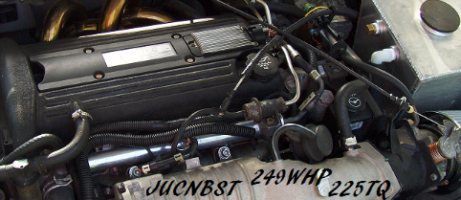 yea i already have the d/p kit installed and i was looking at the dynotune cotroller its reasonable and seems to be a good product . what shot are you running ? 150 ? are you useing a progreeive set up ? hows it working for you ?


13's or blowning it. wayhttp://i39.photobucket.com/albums/e175/slowfire99/100_0463.jpg

I contemplated going direct port with lots of spray after my motor build, BUT now hp tuners is out for our cars. I wanna consistently go fast without having to fill up my bottle so I am going turbo, and i will keep the single fogger setup as well just in case i cant hit my 1/4 goal.
But my current setup does include a Nitrous Oxide Systems single fogger universal kit for 4/6 cyl. motors with a window switch, bottle heater, gauge, and blanket. I run a 75 wet shot, once i get everything done i will be going down to a 50 when I'm all done for the turbo motor.
As far as how effective my setup is......I rarely sprayed out of the hole, I launch at 2900-3100 rpms with my 18's, and would shift early into 2nd @5700 and then use the system through 2-4th. I did have one excellent pull while spraying in 1st, but I think it was just the right conditions, as i never got it to hook up like it did that night again. but other than that all i used was a window switch and a wot switch. Once I "re-install" my kit I plan on running 2 nitrous noids to play it on the safe side, with my window switch, wot switch, and an A/F switch. But we will see as time goes on. I might even pull the kit all together if i hit my goal for the turbo motor and install the kit on my 86 caprice.