i was wondering how much of a shot you guys are runnning on sotck internal 2200's.
can these slow engines handle a 75 shot? cuz theyree are pretty under powered for 2.2L's. Can you run a 75 shot w/ basic supporting mods?

Working on obtainting an M-Class license... ?? Hint: 2 wheels.

I am running a 50 shot with no problems at all. I am going to switch to the 75 for the track hopefully this weekend and have you and answer. Only one way to find out!!!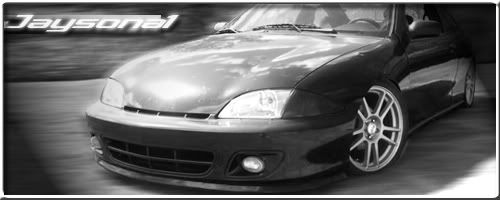 I had run a 75 shot for a while. eventually the motor did pop. but I stopped pulling ignition timing with my dis 2 i had at the time. i just ran premo fuel copper plugs and it ran fine with no timing pulled for about 2-3 bottles, and had used a total of 13 bottles in 3 months.. then it detonated and the motor made expensive noises. It can take the 75 just dont get greedy like i did and you will be fine.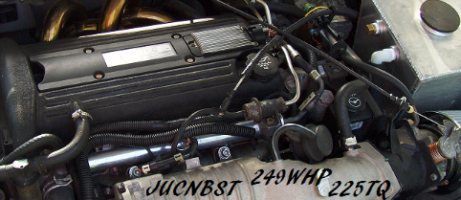 track was closed because they said it was to cold!! But i did put the 75 shot on and hit it a few times on the street and so far so good. Guess only time will tell! LOL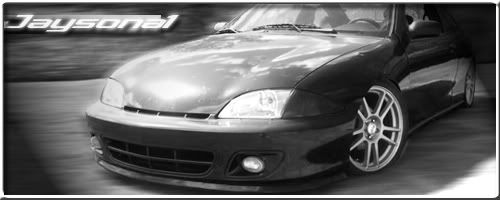 i have a pretty bulit 2.2 , but my stock motor would handle a 75 wet hit no problem, just go a little cooler on the plugs and make sure you got enough fuel. I was running a 100 wet hit but that is with h-beams, and all that jazz
fully built 2200-TO4E T3/T4-HP tuners-373hp @18psi
i ran a 100 shot wet on mine for about 8 bottles and it still ran great when i pulled it out . but you will need some extra mods i would sugg upping the fuel system with a walbro pump $80 and a adfpr $100 and if you havent open up the exhaust . i never retarded the timing but some say its a good idea.


13's or blowning it. wayhttp://i39.photobucket.com/albums/e175/slowfire99/100_0463.jpg