Ok i really need some nitrous im not haveing fun anymore. Who has tips for me??????


"Just because I stole your girlfriend you dont have to make fun of my car!!!!!!!!!!!!"

your car profile states you have a nitrous gauge,so don't you already have nitrous?
Edited 1 time(s). Last edited Tuesday, April 03, 2007 6:47 PM

15.2@89mph 2.171 60ft. 9.830 1/8 R.I.P. "LULU"
just read the faq and don't cheap out when you get a kit. also double check everything when you hook it up.
If your concerned with safety and reliability of the system, Run 2 Nitrous solenoids, window switch, wot switch, and a fuel or air fuel safety switch. and take ur noids apart and check seals every 5-6 bottles, or replace them if you don't feel that your up to taking them apart.
Also check ur wiring for tight connections and good grounds
do some searching you'll find everything you need to know.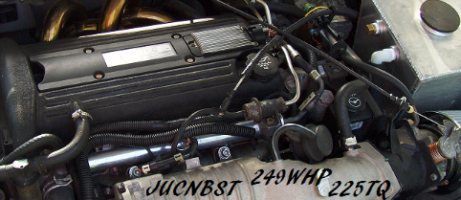 go to the grocery store...
I prefer Grape

http://www.motortopia.com/cavyfreak442/cars
Best ET to Date: 14.251 @ 98.51 mph. 13's or Bust Baby!
judging by that post I would say nitrous for you would be retarded.
------------------------------------------------------------