Ok, so I had a leak in my steel line and Nitrous was coming out near my strut bar, and thats not a good thing, so I get everyhing in the bay cleaned up a lil bit where it was happneing ( thinking it came in contact with the Strut bar since it was right there when it sprung the leak, so long story short, I need to replace the short line from the Fuel tee to the soleniod and the long one going to the bottle both, and I found they were EXPENSIVE. lol so I was gonna try this, and I have a NX kit and the fittings look similar, but it says -4AN ends for 1/8 NPT connections. And that didnt make a lot of sense to me so i thought it would be better to ask even though I would imagine it would. Thanks

http://cgi.ebay.com/ebaymotors/DEI-CryO2-14-SS-Braided-Line-4AN-NX-NOS-ZEX-Nitrous_W0QQcmdZViewItemQQcategoryZ38634QQihZ004QQitemZ140088054437QQrdZ1QQsspagenameZWD1V
.
.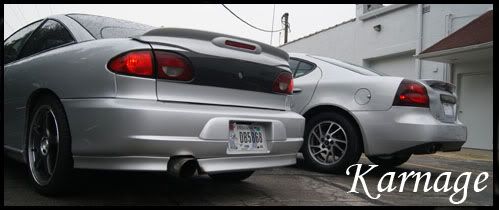 yup, 4AN is what pretty much all the nitrous companies use anyway coming from the bottle to the solenoid. You should be fine with that. also, look up "4an nitrous" or "4 an nitrous" you might be able to find something for a lil bit cheaper but watch the shipping. be sure that 14' is going to be long enough for you as well.



Scott

When I boost, you boost, we boost
~~~~~~~~~~~~~~~~~~~~~~~~~~~~~~~~~~~~~~~~~~~~~~~~~~~~~~~~~~~~~~~
You have been banned from NEJBODY.
You've displayed wayyy too many acts of pushing people to their limits.
It's never cool to tear people down for what they want to do.
NEJBODY is a team. We're not the same as JBO where everyone bashes on eachother.
I'm surprised you show up to our meets after half of the things you say on here.

Cool man, thanks a lot, that really helps ,I found some pretty reasonable so ill pick some up next week. Thanks again

.
.