Hi. I have a 99' 2dr Base Model 2.2l OHV 3spd auto trans Cavalier. I have the following mods added to it.....Cold Air Intake, Cat Back Exaust, and a cheapo $30 Performance chip.
I am interested in putting nitrous in my car....as an alternative to spending the large amount of money for scraping all of my mods for a $2500+ turbo kit and or fabricating my own mods and going to a pick and pull to get a turbo. What would be a good brand name for my car. How much can my car with the current mods take? Any advice on this would be greatly appreciated.
what kind of cheapo performance chip do you have? Is it one of those ebay resistors? I have a 75 wet shot on my 2001 2200. Is there anything you need help with?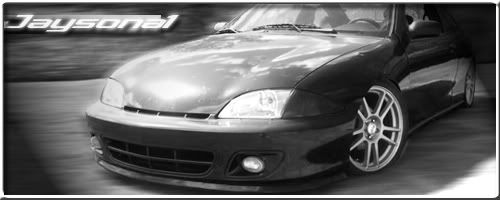 well i have a +20 hp racing chip that you splice into the IAT sensor wiring...i think the most it has done is remap the fuel for performance...i don't feel too much of a difference....anyway...I was just wondering what brand to get, how much of a shot, wet or dry system, how much it costed you to add juice to your cavy, and will i need to add any more modifications to my car for nitrous?
not trying to be an @ss but have you read the FAQ's and stickies?And btw those "chips" do nothing for performance.prices vary on kits and wet is the safest.Start off with a 35 shot then try a 50 shot,NX,NOS and ZEX are three of the best kits.There are alot more out there.

15.2@89mph 2.171 60ft. 9.830 1/8 R.I.P. "LULU"
I'm with Biggz on this one. do some more reserch on the subject before you commit to going the nitrous route. If you plan on getting a turbo kit.....just keep saving. Most likely you will get a nitrous kit you will pop ur motor and either give up on the car, or waste money on another junkyard motor as a replacement and if you dont swap it yourself your wasting more money.
If you do want to spray ur ohv....I would at the minimum recoment window switch, Fuel pressure saftey switch and a wot switch, and keep the spray to 50.
some good reading material can be found at the link below. Read the book twice and get a good understanding on how everything works and how it makes power.
http://store.summitracing.com/partdetail.asp?autofilter=1&part=SAD%2DSA50&N=700+4294924480+400217+115&autoview=sku
I dont mean to come across as a dick...just giving you my .02 as I have blown my motor on the bottle. Yea it sucked at the time but I know why it popped and it was my own fault not nitous. If you have any questions at all feel free to pm me or post up. I dont check the nitrous fourms that often but When i do I respond to many posts.
Good luck
-Jeff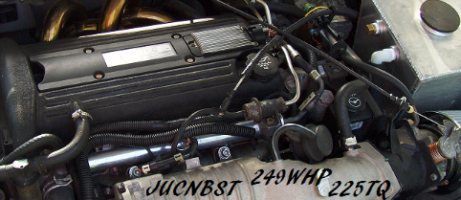 Oh and one more thing.........Remove that cheap "chip" it wont do anything for ya but waste fuel If you want to tune ur car check out www.hptuners.com and you can really tear into your cars ecu. I forgot to post that in my first relpy.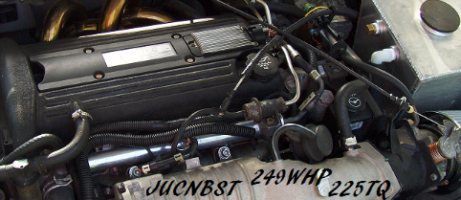 ok that sounds like a good idea. i will definately check out hptuners and check out the pricing on those mods for juice. Thanks Biggs and Jucnbst.