I understand where he is coming from, its basically just asking for trouble. I would agree that if a cop see's the bottle sitting there he can make your life a living hell. Personally, I wouldn't blame him and I would probably do the same thing, even tho I have a bottle in my car, I can't say that if I was a cop I would be leniant about it and let you off with a warning instead of a full out ticket. Thats why I have mine in a gym bag bolted to the body with clothes in it.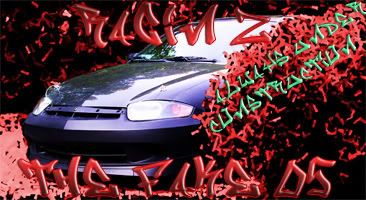 Yeah I have seen those before,I think Compucar makes them.Bottle bolted to a piece of plywood and inside a big gym bag.The cop that pulled me over was going to give me a ticket for doing 55 in a 45 although I was on the on ramp to the E-way.He made more of a comment on my radar detector than my bottle.I think he was shocked at the fact of a cavalier having nitrous.I like the looks and comments when the top is down and people see a bottle or if I pop my hood at the gas station to put oil in the car and they see the solenoids and braided lines.Their eyes get big and have a puzzled look on their face,it is priceless!!

15.2@89mph 2.171 60ft. 9.830 1/8 R.I.P. "LULU"
Yeah I realize (in most places at least) that it's not illegal to just have the bottle in the car...but there's plenty of other things that aren't illegal either and people still get harassed about them. I had underbody neon on my Eclipse Spyder and had a cop pull me over for it. In Ohio the law is that the bulbs have to not themselves be visible and it can't be flashing or osciallating - that's it. Any color is legal otherwise. Well this cop pulled me over and gave me crap for almost a half hour about it, had me out of the car and everything. After about 15 minutes he finally let it slip that "he didn't think it should be legal." I almost said "it's not about what you think should be legal, it's about what the law says" but I decided to just let it slide because I didn't want him further up my ass. He had no right to harass me like he did, and yet, he still did, because some cops just love the power trip. I'm just saying with my luck I'd run into ones like that - of course they'd have to have another reason to pull me over to see it, but around where I live you will occasionally get pulled over by a cop claiming you were doing 55 in a 45 (when you weren't) but the real reason seems to be that they could hear your exhaust, which is obviously aftermarket.

But I digress.

I feel what your saying,but where I live now there are so many guys runnin' around with fart cans and ALOT of old muscle cars that make my exhaust minimal in comparison.I have straight pipe and no muffler as of yet.But I get your point.

15.2@89mph 2.171 60ft. 9.830 1/8 R.I.P. "LULU"
do they say "LOOK!!!! NAWS!!!!" and have a SCARED look on there faces?




15.2@89mph 2.171 60ft. 9.830 1/8 R.I.P. "LULU"